NYSE Euronext hired the former head of U.S. equities sales at Nasdaq OMX Group's trading business to head up account management for its own equities products and services.
The operator of the New York Stock Exchange said Stacey Cunningham will come aboard in December as its vice president for U.S. relationship management.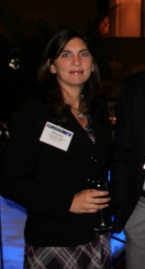 That includes responsibility for generating revenue "across the full suite of equities-based products and services,'' NYSE Euronext said, in its announcement.
That announcement comes two trading days after Nasdaq OMX Group itself announced that it hired a successor to Cunningham. Friday, the operator of the Nasdaq Stock Market said in a communication to its customers Friday that it hired Manny Santayana, a managing director and senior advisor at Credit Suisse, to be vice president of the U.S. Equities Sales operation.
Cunningham at NYSE Euronext will report to Christine Sandler, its executive vice president for global sales.
"Stacey is a highly respected and successful professional who brings outstanding customer relationships, industry experience, knowledge, and leadership skills to NYSE Euronext," Sandler said.
Cunningham joined Nasdaq OMX Group in 2007 as director of capital markets. She was vice president of trading at Banc of America Specialists, for five years, previously.