Market services contributed its second highest quarterly net revenues as Nasdaq reported record revenues of $892m in the first quarter of 2022.
First quarter 2022 net revenues increased 5% from $851m in the prior-year period reflecting organic growth and the impact of acquisitions and divestitures.
Adena Friedman, president and chief executive of Nasdaq, said in a statement: "As we enter the third year with unprecedented dynamics affecting financial markets, our clients continue to turn to us to help them navigate that increasing complexity. Our record revenue performance this quarter is further evidence that Nasdaq can deliver consistently in multiple operating environments."
Market services had net revenues of $315m in the first quarter of 2022, a decrease of 6% from the record a year ago.
Friedman said on the results call: "This environment creates volatility in markets, which tends to be a volume driver, and we have continued to experience strong volumes across our US and European markets."
Market services had net revenues of $315m in the first quarter of 2022, a decrease of 6% from the record a year ago.
Friedman said on the results call: "This environment creates volatility in markets, which tends to be a volume driver, and we have continued to experience strong volumes across our US and European markets."
Nasdaq said that in equity derivatives it led all exchanges during the first quarter of 2022 in total multiply-listed U.S. options traded and achieved record net revenues of $112m. Nordic and Baltic markets had a total of €289bn of shares traded, the highest in the last decade.
Friedman continued that Nasdaq has a proud and long standing position in Europe, which includes seven markets in Nordic and Baltic countries – Denmark, Estonia. Finland, Iceland, Latvia, Lithuania, and Sweden – and has been extremely diligent in monitoring the threat environment to protect employees and ensure resiliency.
"Our revenue exposure to Russian clients was de minimis and we remain committed to ensuring full compliance of all relevant sanctions," she added. "In addition, our global workforce is highly engaged in humanitarian and philanthropic efforts to support the needs of those impacted by the senseless war."
This year has had a slower start for initial public offerings but Friedman said Nasdaq attracted 70 listings in the US during the first quarter, raising $9bn for an 86% win rate.
"We listed 100% of all operating company IPOs during the quarter and 80% of stock listings in Europe," she added.
Friedman noted there 270 active IPO filings at the US Securities and Exchange Commission to list on Nasdaq compared to 222 filings at the same time last year.
"We have great engagement with some interesting and large IPO opportunities, but they need to feel that the environment is right to go public and that investors are ready to take risks on new issuers," she said. "Markets are volatile and it makes it harder for investors to take those risks but we are hopeful that we might see a couple of IPOs in this quarter."
Investment intelligence
While volatility has slowed down IPOs, market conditions have also led to inflows in Nasdaq's index products and index futures.
55 exchange-traded products tracking Nasdaq indexes have launched over the last 12 months and accumulated $2.5bn of assets under management. In addition the number of futures and options on futures contracts tracking Nasdaq indexes set a quarterly record with 147 million contracts traded, an increase of 40% year-on-year.
Index revenues grew 20%, or $20m, due to the growth in ETP assets, which had positive net flows of $75bn over the last 12 months.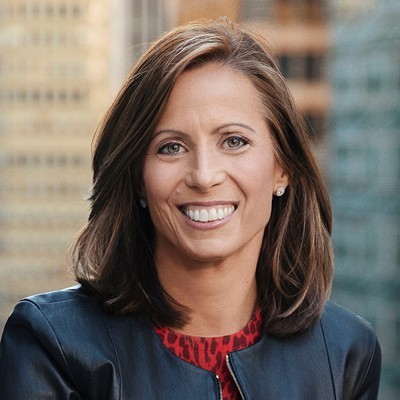 Nasdaq launched three new commodity reference price indexes, based on Puro.earth's Carbon Removal Certificates (CORCs) in March 2022 . Nasdaq acquired a majority stake in Puro.earth in June 2021.
In March 2022 Nasdaq announced that Oliver Albers has been appointed executive vice president and head of investment intelligence, replacing Lauren Dillard who is taking an executive role at a private equity firm. Albers was previously global head of data for the investment intelligence business.
"We are excited about the appointment of Oliver Albers as a 20-plus year veteran of Nasdaq," added Friedman. "Oliver is an experienced results oriented leader who was instrumental in supporting Lauren in strategically repositioning Nasdaq's investment intelligence segments into the higher growth, more technology-enabled business you see today."
AWS partnership
In November last year Nasdaq announced a multi-year partnership with AWS to migrate its North American markets to the cloud provider in a phased approach, starting with Nasdaq MRX, a US options market.
The partnership involves Nasdaq incorporating AWS Outposts directly into its core network to deliver ultra-low-latency edge compute capabilities from its primary data center in Carteret, New Jersey, to create the first private AWS Local Zone for the capital markets industry. AWS Outposts extend AWS infrastructure, services, APIs, and tools to virtually any data center, co-location space, or on-premises facility.
"We are heavily engaged with AWS," said Friedman. "They are deploying Outposts into our data centre and on May 3 we are going to have our groundbreaking at Carteret for the expansion."
Equinix and AWS will be doubling both the size and the power of the data center, which is due to finish in 2024, and will make it easier for Nasdaq's clients to migrate to the cloud in the new AWS Local Zone.
Nasdaq aims to migrate MRX to Outposts and the new Fusion platform before the end of this year and Friedman said the move is on track.
Technology
In February 2022 Nasdaq announced the retirement of Lars Ottersgård, executive vice president for market technology, after 16 years. Ottersgård will transition into an advisory role on April 30 until his formal retirement on August 31 2022.
He is being partly replaced by Roland Chai, currently Nasdaq's global chief risk officer. Chai joined Nasdaq in 2020 where he was head of post-trade and group risk officer at the Hong Kong Exchange.
"Roland has very specific mandates to strengthen, deepen and progress our client relationships and to continue to innovate across our products," added Friedman. "I am excited about this transition as it comes at a time when Nasdaq has never had more to offer to our technology clients including our next generation, cloud-native trade lifecycle solutions, a newly built cloud-based trading risk management solution and solutions to meet the needs of digital asset marketplaces.
Nasdaq also announced in February 2022 that Jamie King will be elevated to executive vice president to lead Nasdaq's anti-financial crime business. King is currently president and chief executive of Verafin, which he co-founded in 2003 and was acquired by Nasdaq
Friedman said: "We have made meaningful progress in the last 12 months on our objective of helping Verafin expand its client franchise into larger tier one and two banks, as well innovative fintech companies."
Since Nasdaq closed the Verafin acquisition in February 2011, 10 fintech clients and two new banks have onboarded and several proofs of concept are currently underway at major tier one banks.
"We also launched our first digital assets module for traditional banks and virtual asset service providers, including crypto exchanges, to detect and investigate fraud and money laundering within digital wallets, and in transactions between traditional fiat and digital currencies," added Friedman.
She continued that Nasdaq also responded quickly to the Russian invasion of Ukraine by expanding its sanctions product to include the new sanctions regime.
"By bringing together all Nasdaq's anti-financial crime solutions, including Verafin, and our market and trade surveillance solutions under Jamie King, we have an incredible opportunity to maximise those cross-product synergies," said Friedman.
Friedman said a dozen crypto exchanges use Nasdaq technology for trading and also for surveillance.
"The anti-financial crime team has built a module that is specific to digital assets so we are excited that we are rolling that out in the second quarter," she added.