This is the fifth in a series of articles profiling previous Markets Choice Award winners. The 10th-anniversary Markets Choice Awards will be held on May 4, 2022 in New York.
It's been five years since Nanette J. Buziak, won the Trader of the Year Equities Award at the Markets Choice Awards 2017. After being on the buy side for her entire career, she moved to the sell side and is currently Co-Head Institutional Sales and Market Structure at Stuart Frankel & Co., which she joined in September 2021 after having spent 16 years at Voya Investment Management and its predecessor firm as Managing Director and Head of Equity Trading.
She said she's still "coming up" and calls it "the sell-side learning curve". "Learning is a continuous exercise, but it's very time-consuming," she added.
For Buziak, it's great to be a part of a firm that's growing. "The people are phenomenal," she told Markets Media.
She added she likes the people part of the business: "I'm learning a lot more about how the buy side operates in my new role than I think I did in my prior role. People are just more open about how and why they do things when you are not viewed as being a competitor." 
Stuart Frankel & Co., the New York Stock Exchange's oldest independent broker, was one of the last brokers that Buziak had onboarded during her tenure at Voya.
"I believe in their story after having been a client of theirs. I knew the importance of the opening and closing imbalances, especially on large event days and the value that that information possesses in a trader being able to add alpha to the investment process," she said.
When a former direct report would push back on her that "they got pennied at the close" she would often say, "who cares if it is going to cost you a penny for liquidity if it will cost you quarters to get your entire trade done? Take that liquidity." 
She added that anonymity is key to her current company's approach to trading and which is why you rarely see them out in IOIA's. Stuart Frankel & Co. can trade not only NYSE names, but also Nasdaq, Canada and developed markets in Europe. The firm has access to the D-quote through the close, offers parity and  can take a hybrid approach to trading and can work the harder-to-trade names and pull them out of baskets and can trade baskets as well. 
"We provide unique corporate access — our motto is "Here to Help" and we really mean that. I often get asked, how are you related to the Frankels as it is a family firm, to which I respond, "well, my Dad's name is Frank."
When asked about what her experience has been like working with women in our industry, "some of them have been great and have become fantastic mentors and friends. Others have not been as supportive as I would have originally thought them to be, especially in my new role," she said.
Her favorite quote is one from Jack Welch which is "…in the end, your integrity is all you've got." That is how she likes to lead her life both professionally and personally.
In addition to winning the Markets Choice Award in 2017, she also won the Industry Trailblazer Award in 2011, which was presented by Traders Magazine, now a Markets Media Group publication. She said that Ken Heath, the editor at the time, created a great legacy in establishing these awards: "I am so happy that Markets Media has kept his legacy alive in our industry."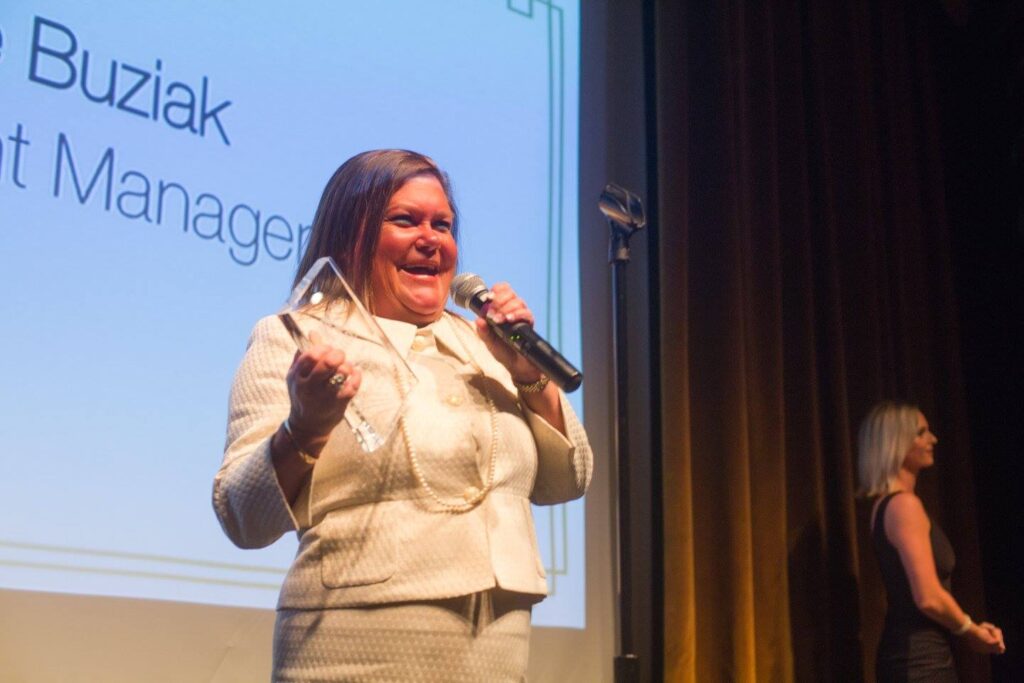 When asked about memorable moments since her last award, Buziak said that she was very involved with understanding what was happening overseas with MiFID II and was asked to present the buy-side view of MiFID as the midsize asset management firm a few years ago to the SEC. "It was exactly like it looked on TV," she recalls: "I was extremely nervous. People were not allowed to interrupt for Q&As until I was done presenting, and to speak for 12 minutes straight through is a very long time."
Outside of work, Buziak, who lives in Westport, Connecticut, gets involved in a lot of charity work at her church. She is also part of a local organization called Al's Angels, which provides support to children and families battling cancer, rare blood diseases, natural disasters & severe financial hardship.
Buziak also loves collecting sea glass, saying that it's very therapeutic and helps her clear her head on the weekends. "In the last five years, I've got so many jars of sea glass, I need to learn how to craft something with it," she laughed.
Buziak's future goals are to always continue learning: "One of the things that I love about our industry is that it's always evolving; you never have the same day twice." She would also like to eventually end with a position on a mutual fund board.
"I'm glad to see retail investors coming back into our markets. But I do think that our industry is going to need to adapt to that, and invest in a lot of the backbone infrastructure," she said.
She also thinks that T+1 for settlement will be a great development to have the mutual fund subscription/redemption process aligned with securities settlements: "To have all of that aligned will make our industry a lot more clearer and transparent and cost effective for all investors," she concluded.
Previous MCA Winner profiles:
William Brodsky: A Pivotal Figure in Listed Derivatives
Dan Royal: The Joy of Buy-Side Trading
Jennifer Nayar Tracks Evolving Fintech Space