Excellence in Leadership:Presented to a woman who demonstrates exemplary leadership and exceptional performance throughout her career. This individual, selected by the Advisory Committee, is such an outstanding professional that she qualifies for multiple award categories and is considered to be the standard-bearer for women in the financial community.
Christine Sandler, executive vice president, global sales, NYSE Euronext
Effective leaders are those who embrace growth constantly, whether it's at an equities exchange, a technology company or in a family.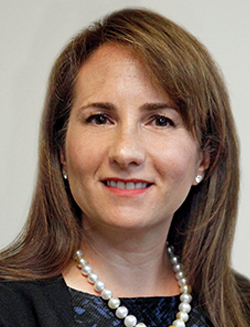 That's Christine Sandler's recipe for success. The executive vice president, global sales, at NYSE Euronext told Traders Magazine that her growth began in December 1986, when she landed her first job at Smith Barney. She then moved to Oppenheimer and later became a trader at W.H. Reaves, after earning an economics degree from Stony Brook University. For her, the goal was to get to the Street. And fast.
"This was a natural avenue for me in back then in the late '80s. It was all about Wall Street," Sandler said. "Things were really active, and the industry was attracting talented people. I wanted to be a part of that."
[See All The 2013 Wall Street Women Winners]
And she wanted to be a leader right off the bat-to head her own production team in either sales or trading. Sandler recalled the interview that earned her the job at W.H. Reaves, which actually came about as the result of another interview at a rival firm, Oppenheimer. While getting a job at Oppenheimer, she made enough of an impact on the recruiter that he passed her name along to W.H. Reaves, who was looking for trader. Willing to grow and step out of her comfort zone, Sandler took the meeting and the chance to trade.
"The fact that the Oppenheimer recruiter recommended me really changed me-that one act of kindness changed the shape of what my career became," Sandler said. She stayed at W.H. Reaves for three years.
Looking for more, Sandler left W.H. Reaves in in 1993 and joined Spear Leeds & Kellogg as a prop trader in June 1993. She stayed until 1996.
After a brief hiatus away from finance, she returned in 1998 and transitioned from trading to sales at Bloomberg Tradebook. There she was senior salesperson and the number one unit revenue producer in 1999. Sandler said the transition from trading to sales was smooth, given her trading knowledge and background. She could sell the firm's products knowing just what a trader needed.
Again, not content to stand pat for long, Sandler joined Archipelago as its 52nd employee and grew with the upstart company. As East Coast sales manager there, she lead a nine-person team responsible for prospecting, training and managing institutional and broker-dealer accounts.
"That was a pivotal time when I jumped to Archipelago," Sandler said. "There's a different skill set used in managing versus production. You have to develop a functional team, and I found this enriching."
Eventually, she'd move from sales head at Archipelago and join Wave Securities as a managing director and head of sales. Expanding her knowledge base from equities to options, then Canadian and European DMA and soft dollar products, Sandler would eventually lead Wave into the universe of Merrill Lynch, which acquired Wave in 2006. At Merrill, she was named managing director and head of sales for global electronic trading and block alert. She ran everything, managing eight people, marketing products and tripling the firm's account base, among other accomplishments.
In 2007, Sandler joined NYSE Euronext, where she currently is executive vice president for global sales. She runs a global team of 37 salespeople and interacts with most market makers and high-frequency traders. A part of the management committee and mentor to many, she has reached a pinnacle. But it all comes down to one thing for her.
"To be a leader, you have to grow," she said. "Whether at an exchange, technology company or broker."