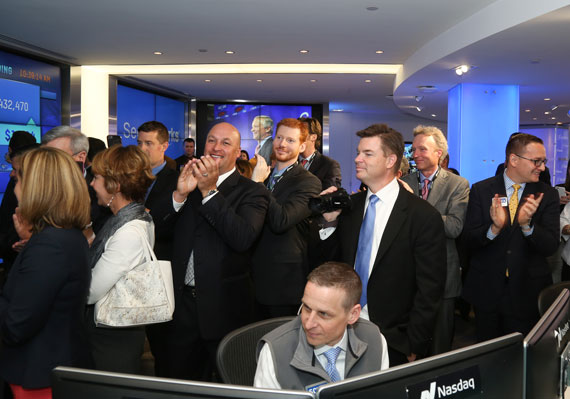 The debut of a company's first IPO trade feels like a cross between a NASA rocket launch and the birth of child. Lots of prep work, pins and needles anticipation and unexplained delays mark the debut of a new stock — and the debut of SecureWorks was no exception. At its launch on the Nasdaq Stock Market, the trading of the firm's initial public offering was also the first technology IPO of 2016.
Traders takes you behind the scenes of the trading debut of SecureWorks.
It was an exciting morning – confetti, champagne, family members of the SecureWorks top brass – because much was at stake. Not only was this the first IPO of a technology firm of the year, 2016 has been a rough one for IPOs in general. Nasdaq has had only 15 new stock debuts so far this year. By comparison, just last year, the market maker saw more than 200 IPOs by year's end.
As one Nasdaq offical remarked, they are looking forward to a "robust third quarter."
In this photo essay, Traders goes behind the scenes of an IPO on the Nasdaq Stock Market. In a future Traders gallery, we will meet the Nasdaq leaders who make the IPOs happen.

Earlier this week, Traderspresented the third in a series of pictures from STANY 2016.Wealso presented thePeople Moves of March 2016as well as scenes from theSTA Los Angeles 2016 conference. To view other slideshows — such as ourexplanation of the Blockchainor the toptrading volumes of March 2016— please visit theTradersPhoto Gallery.
Photos by Nasdaq and John Calabrese.