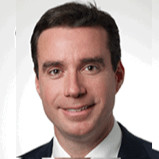 Citadel Securities has hired Barclays veteran and former global head of markets, Joe Corcoran, for a newly-create role. A Citadel Securities spokesperson confirmed that Corcoran has been appointed head of markets at the institution, based in New York. He will oversee sales and trading for equities and fixed income, currencies and commodities (FICC), including Citadel Execution Services, NYSE Designated Market Maker, and the Citadel Securities FICC divisions. He has more than 28 years of experience in trading and markets at Barclays and Lehman Brothers.
If you have a new job or promotion to report, let me know at jdantona@marketsmedia.com
Blackstone Infrastructure Partners has landed Jonathan Kelly, formerly Managing Partner and Head of Europe for Brookfield Infrastructure, as a Senior Managing Director and Head of European Infrastructure. In this role, Kelly will be responsible for the build-out of a dedicated European infrastructure team and the sourcing of investment opportunities across the region. He will start in Blackstone's London office on April 6. At Brookfield, Kelly served as Managing Partner and Head of Europe for Brookfield Infrastructure and was the Global Chief Investment Officer for Utilities and Data Infrastructure. Earlier in his career, he also worked at CIBC World Markets in its Power & Utilities Group. Mr. Kelly holds a Bachelor of Commerce (Honours) degree from Queen's University (Kingston, Ontario).
Northern Trust has announced the appointment of Sara Gilbert to spearhead business development for its alternatives asset servicing business in Europe. In her role as a senior executive for alternatives business development, Gilbert will be responsible for further accelerating Northern Trust's asset servicing solutions for multi-class strategies including private equity, private debt, real estate, infrastructure and hedge funds. She joins Northern Trust from AltaReturn in Hong Kong, where her role was focused on expanding their business into Asia-Pacific. She previously held roles at SS&C Technologies, SunGard/FIS, PerTrac, Financial News and the Financial Times.
Aquis Exchange snagged renowned business commentator David Buik as a new consultant. With over  50 years working in the City of London, he started work at Philip Hill Higginson Erlangers in the City of London and later worked for City Index Group, Cantor Fitzgerald and BGC Partners, and most recently Core Spreads.
Eldridge Industries, a holding company that invests in growing businesses, reported the promotion of John Kim to Principal of the Firm. Kim leads Eldridge's Structured Products team and serves on the boards of Stonebriar Commercial Finance and Elliott Bay Capital Trust. Prior to joining Eldridge, Kim served as a Managing Director at Natixis North America in the US Structured Credit & Solutions group, where he focused on middle-market and broadly syndicated CLOs, structured credit advisory, and other credit solutions for a range of asset managers and hedge funds. Prior to Natixis, he held senior roles at Deutsche Bank, where he was head of CLO structuring, and at Lehman Brothers.
Willis Towers Watson's Asset Management Exchange (AMX) has hired James King as its interim CTO, following the departure of Bill Jooste. King joined AMX in January after almost two years at Open8 Technologies, a technology start-up he co-founded in 2018. He also spent two years as a strategic advisor for Inspire, a London-based software provider for structured products, which he joined as part of a contract between the firm and Open8. King will continue his work at Open8 and also continue to sit on the Index advisory committee for Cboe Europe.
According to Business Insider, Barclays has hired ex-Goldman Sachs partner Chris Taendler, a recently retired Goldman veteran who helped run its emerging markets foreign-exchange business until last year, to lead a similar initiative in Barclays' New York City office, according to two sources familiar with the appointment. Taendler started at the firm last week as cohead of global emerging markets and G10 linear FX, the sources said.
Kingswood Holdings Limited, an international wealth management company, made three senior non-Board appointments to further bolster its team. Harriet Griffin joins as Chief Operating Officer, Richard Bernstein as Chief Risk Officer to lead an integrated risk and compliance function across the group and Kirsten Owbridge as Managing Director – Group HR, a new role with responsibility for Kingswood's people development strategy.
Griffin joined as COO from Charles Stanley where she held the same role of COO of their Private Client Investment Management business. Prior to Charles Stanley, she was Senior Client Relationship Manager at the Chartered Institute for Securities & Investment.
Bernstein joined as CRO hief Risk Officer with over 17 years' experience in Compliance and Risk. He was previously Head of Risk and Central Compliance at Close Brothers Asset Management. Prior to that, he was Head of Operational Risk at F&C Asset Management (now BMO Asset Management) and Operational Risk Manager at Barclays Private Clients.