U.S. listed options trading volume skyrocketed in June versus May, climbing to 334.5 million contracts, led by the strength of the Chicago Board Options Exchange.
Wow!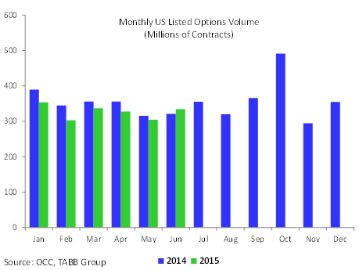 That's according to the latest Tabb group June 2015 Options Liquidity Matrix report. The report noted that the 334.5 million contracts for June was 10% higher than May's 304.1 million contracts.
"Prior to June, every month in 2015 had experienced lower options volumes compared to the same month a year earlier," said TABB analyst Luther Zhao, who manages the TABB Options LiquidityMatrix.
Of the 30.4 million contracts that the industry added this month, Zhao added, the CBOE was responsible for 12.4 million, or a whopping 41%.
"The CBOE had been experiencing market share declines in 2015, but the gain in June reversed much of the loss," he said. "Total volume year-to-date measured 1.96 billion contracts, 6% lower compared to the year-earlier period."