Exchanges' lists of fail-to-deliver securities shrank dramatically after the Securities and Exchange Commission instituted a new penalty for fails in mid-September. Nasdaq, the New York Stock Exchange, NYSE Arca and the American Stock Exchange have each seen their so-called "threshold list" of fails drop between 53 and 93 percent in less than two months.
On Friday, Nov. 7, for instance, Nasdaq, the Big Board, Arca and Amex respectively had 61, 6, 17 and 10 names on their lists. That compared with 242 names for Nasdaq, 87 for the NYSE, 36 for Arca and 71 for Amex on Sept. 15, two days before the SEC announced an emergency penalty on brokers that fail to settle short sales on time.
Threshold securities are those with failures to deliver for at least five settlement days exceeding 10,000 shares and half of one percentage point of the stock's outstanding shares. Nasdaq's published list includes Nasdaq-listed and over-the-counter fails. Nasdaq names accounted for just 15 percent of that list on Nov. 7, down from 56 percent on Sept. 15.
Speaking at the Securities Industry and Financial Markets Association annual meeting on Oct. 28, Robert Greifeld, president and CEO of Nasdaq OMX Group, said he supported the SEC's penalty for fails. Nasdaq, he said, had reached a high of 443 stocks (including OTC names) on its threshold list prior to the SEC's Sept. 17 Emergency Order laying out the Commission's new penalty. On the day he spoke, Nasdaq's threshold list had 70 names, 23 of which were Nasdaq-listed, and Greifeld noted that the "full impact" of the SEC's rule had not yet been felt.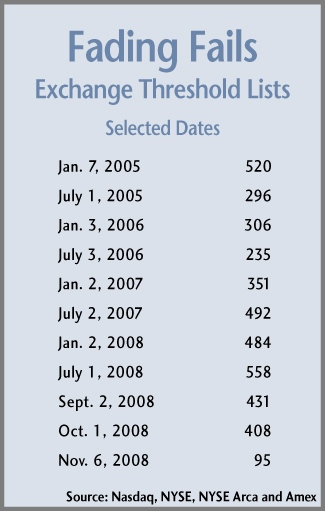 Greifeld told reporters after his talk that the "rules put in place [by the SEC] are working with respect to [naked] short selling." Naked short selling refers to short sales executed with no intention to borrow the shares needed to settle the transaction on T+3, the settlement date. The SEC has said repeatedly in recent months that abusive naked short selling can disrupt and harm the securities markets.
Commenting on the SEC's penalty, Duncan Niederauer, CEO of NYSE Euronext, said at the SIFMA meeting that "that alone is the best thing we could have done" to reduce potentially abusive naked short selling. He added that the T+3 delivery requirements, which had been on the books for some time, previously "were not adequately enforced."
On Sept. 18, the SEC implemented Rule 204T of Reg SHO, which it had announced the prior day in an Emergency Order. Rule 204T imposed a penalty on brokers with fails resulting from short sales. Those brokers cannot execute new short sales in stocks that fail to settle by 9:30 a.m. on T+4 without first borrowing or "pre-borrowing" the shares needed for those transactions, until the existing failed position is settled. The pre-borrow penalty makes future trades more costly and cumbersome for brokers.
The Emergency Order lapsed on Oct. 17, but the SEC implemented Rule 204T as an immediately effective "interim final temporary rule" that expires on July 31, 2009. The Commission is now seeking comments on the rule. Nasdaq's Greifeld told reporters he thought the SEC should keep the penalty in place after next July, adding that he did not think the penalty should be applied only after T+4 or T+5, as some in the industry have suggested.
(c) 2008 Traders Magazine and SourceMedia, Inc. All Rights Reserved.
http://www.tradersmagazine.com http://www.sourcemedia.com/