Trading and living in sunny St. Croix, U.S. Virgin Islands, might entitle some Canadians to hardship pay. After all, there's no ice hockey, no ice skating, no Grey Cup and certainly no sub-freezing temperatures in this tropical paradise. But don't count Acadia Fund's Andrew Bell in that group. "I thank God that I'm here every day," says the Ottawa native who's headed trading since 2005. Acadia is Miller & Jacobs Capital's on-shore hedge fund. The parent manages $200 million in equities, and also sub-advises on two mutual funds.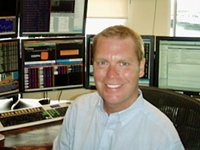 As the pro hockey season winds down, Bell's had his thoughts on other more pressing issues anyway, like the financial sector, rocked by uncertainty from the subprime lending fallout. His firm has specialized in financial stocks for the last decade. "We're in the center of the storm," he says, adding that he's never seen such volatility in his 11 years in trading. During a 15-day stretch in March, three trading days produced market swings in excess of 3.5 percent.
Beyond the volatility of the market itself, the financial sector, Bell says, has become the new playground for momentum traders. He believes their trading strategies have exacerbated the wicked volatility in the marketplace, and particularly in the financials. "There are too many hedge funds trading with the same mentality, so you get overtrading," he says. "Firms are chasing performance just to stay alive."
One benefit of the momentum in financials has been increased natural liquidity in ETFs in the sector, Bell says. Acadia uses these instruments for directional bets and to hedge its positions. Before the increased trading activity in the sector, Bell usually called a market maker to find liquidity. Now he uses both high-touch and electronic access for these instruments.
In fact, the derivatives desks at brokerage firms have become a valuable way for the firm to pay for its cash equities research, he says. Bell also likes the color he gets from options and ETF sales traders.
Acadia is a big fan of electronic trading, says the former salesman and sales trader who came to the buyside from Citi's middle markets group. Acadia executes about 70 percent of its trading through electronic means.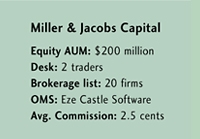 As one might expect from a hedge fund, Acadia's strategy includes lots of trading. That typically means turning over the portfolio about four times in a year. But the firm has been less active with the recent volatility. At heart, the firm is a research-driven, fundamental shop. Still, the investment strategy also calls for Bell to trade around some positions to increase returns.
When trading a block via high touch, Bell says traditional managers are now less frequently on the other side of the trade. It's been hedge funds who have been Acadia's contra side in trades for its financial stocks and its value fund, he says. "We always try to get the pulse of who's on the other side of our trades," Bell says, "and we've found they've been faster money, momentum-type funds."
(c) 2008 Traders Magazine and SourceMedia, Inc. All Rights Reserved.
http://www.tradersmagazine.com http://www.sourcemedia.com