Maximizing alpha is best accomplished through a team approach, says veteran trader Louis Matrone at Rushmore Investment Advisors, a large-cap growth investor in Plano, Texas, with nearly $1 billion under management. Rushmore's team approach-implemented by two traders, three portfolio managers and two analysts-starts with a quantitative model that screens stocks.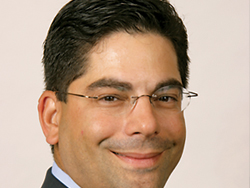 Matrone, director of trading operations, says the firm holds stocks for the long term. This minimizes transaction costs. Rushmore also tries to reduce costs by going through a collegial process when selling and buying stocks. Ultimately, Rushmore officials say their process saves clients 300 to 400 basis points a year. How?
The firm's portfolio managers, analysts and traders all work in the same room. They are constantly interacting.
"You can never overcommunicate," Matrone says. This is a critical element, he says, because traders and portfolio managers must constantly devise new strategies to prevent information leakage, the main reason trades go bad. Besides working closely with the desk, he tries to avoid problems by using about six trusted sales traders.
"A mediocre sales trader can be ineffective," says Matrone, a former sales trader himself. "But a good sales trader who can point you in the right direction is invaluable." If there is low volume in a stock or if there is any danger of leakage, Matrone will switch venues or use low-touch electronic tools, which Rushmore employs for about 60 percent of the shares it trades. But, he adds, the firm always comes back to its roots: cooperation and quantitative techniques.
"We review daily the names our PMs are considering to buy or sell," he says, pointing out that the firm uses a watch list for stocks on its radar. "Our investment process is constantly identifying opportunities."
Matrone, who joined the firm in March, understands the sellside, where he spent 18 years. Matrone has had stints at Pulse Trading and Southwest Securities. A former market maker, he joined Rushmore after covering the firm as a sales trader.
"We had a good relationship," he says. He believes his transition to the buyside was a step up, giving him a bigger role in the investment process.
"Now I have a chance to make real decisions that support the portfolio management team and affect the portfolio," he says. Indeed, in what some have called "the lost decade," a period in which stock returns have been flat, saving on trading costs is now more important.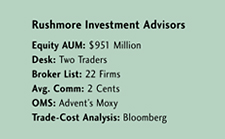 "That's the crazy thing about alpha. In the late 1990s, when portfolios were outperforming by 3,000 basis points, they were still not thought to be producing alpha," Matrone says. "But today it is considered significant if you add 300 to 400 basis points a year." It's how he expects to help clients survive a lost decade.
(c) 2008 Traders Magazine and SourceMedia, Inc. All Rights Reserved.
http://www.tradersmagazine.com http://www.sourcemedia.com/