Find an advantage and put yourself in a better position. That's trading. And toward that end, Stephen Berte likes what he sees at his firm, Standard Life Investments USA.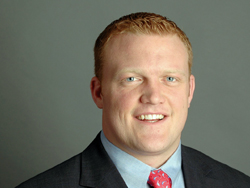 At the Boston-based desk of SLI, Berte and fellow senior trader Matthew Swistak are positioned right in the middle of the information flow, sitting next to portfolio managers and analysts. The open floor plan resembles how nimble hedge funds operate. And the interaction among them provides the type of information flow and rapid communication that can give any trader a leg up.
Additionally, the firm's desk stands as the U.S. beachhead for the Scotland-based investment manager, where Berte shares key market information with colleagues in Montreal, Hong Kong and Edinburgh. "We have very good communication among those desks," he says. "Our first resource is those guys."
SLI mostly trades with nine bulge bracket firms. Commission sharing arrangements have not impacted its number of trading partners, as it's always had a large-firm orientation. But that doesn't mean it won't interact with niche players in the small-cap arena.
"We're finding that some of the small, mid-tier, boutiquey-type brokerage houses do the small- and mid-cap and difficult names much better than the bulge brackets," Berte says.
Berte knows his names-and who traffics in them-particularly well. And despite 25 percent of its business going electronic, there's still a strong demand for high-touch trading.
I think people have realized in these volatile markets you need sales traders," he says. "You need somebody watching your back for you, looking out for your best interests.
But the desk is also comfortable using algorithms and the Big Three crossing networks-Liquidnet, ITG's BlockAlert and Pipeline-to trade many small-cap names. With the larger names, Berte figures there's less chance of market impact, so he trades them himself.
Berte points out the importance of algorithms scouring the various dark pools in today's fragmented market. Consequently, brokers' electronic trading offerings are vital to the buyside's success in accessing the market.
"You can't have 10 liquidity pools sitting on your desktop," Berte says. "We're really dependent on those brokers to maintain that technology to allow us into all those liquidity pools."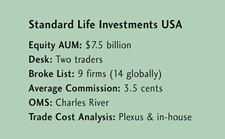 Berte depends on his own experience in his names and pre-trade tools to make trading decisions. The tools are more for picking up trends, and deciphering what went well and what didn't.
But trading is never about overdependence on tools. "It's not something that you should be focusing on each and every single day," he says, "because then you overanalyze what you're trying to do and take your trader instinct out of it."
(c) 2008 Traders Magazine and SourceMedia, Inc. All Rights Reserved.
http://www.tradersmagazine.com http://www.sourcemedia.com/