Portfolio managers at Boston Private Bank & Trust lean on Keith Gentile for more than trading. This group of large-cap stock pickers also wants his input on market trends, which they believe can add to performance.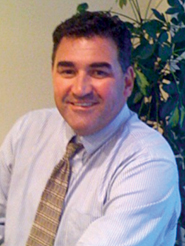 As desk chief, Gentile prides himself on charting stocks and the market, which he thinks helped temper the damage of last year's market meltdown at his firm.
His role includes meeting with the firm's 10 portfolio managers at the weekly meeting of the bank's Tactical Asset Allocation Strategy Committee.
"They (the PMs) ask me to sit in on almost all the strategy meetings. They ask for advice on some entry and exit points in different stock positions and the technicals of the market," Gentile said. For instance, he called a bear market in 2008. His managers' average return was minus 14 percent in a year in which the S&P 500 was down about twice that. Recently Gentile's charting led him to call this "a bear market rally," although his managers were recently up 20 percent for the year.
Gentile has been interested in charting since he began in the business. He spent 15 years on the floor of the Boston Stock Exchange. As a specialist, his bosses expected him to learn charting and analysis.
After leaving the Boston, he went through a difficult two-year freelance stint, offering sellside research and sales trading. "I knew everybody on the street, but it was hard to make the transition and get order flow," he said. Even then, though, Gentile fine-tuned his charting. He worked with a broker from a bulge bracket firm who used leading economic indicators to improve his trading.
Gentile gladly moved to the buyside when offered a job at Boston Trust in 2007. Just as the market started to tank, Boston Trust gave him a trading desk mandate: Add alpha, and bring the desk into the 21st century. Gentile had to update the desk technologically.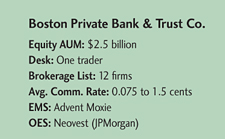 Previously, most orders were placed by phone. Often the desk was overpaying for basket trades, with theses trades averaging between 300 and 700 shares. The desk was almost paying block-trade rates for basket trades, he said. So Gentile insisted on lower costs once he made the desk more electronic.
Gentile said in several cases he switched brokers. He was able to save about 50 percent on commissions for smaller basket trades. Trades are evenly split between basket and block. Where are these bargains?
He said the biggest brokers started becoming more cooperative after he updated the desk. Its procedures and tools had previously lagged, Gentile explained. The desk had FIX connectivity to about two-thirds of its brokers, but used no dark pools or algo sweeps. Gentile changed that. Now about 60 percent of the trades are electronic.
When he arrived, the number was about 20 percent. "I'd say we have definitely caught up to the modern day trading desk," he said.
(c) 2009 Traders Magazine and SourceMedia, Inc. All Rights Reserved.
http://www.tradersmagazine.com http://www.sourcemedia.com/