Mentor of the Year
Given to women who have shown dedication to the cause of mentoring other women in financial services.
Bina Kalola, head of strategic investments, global equities, Bank of America Merrill Lynch
Being a mentor is the responsibility of every leader within a firm.
And by teaching and guiding others, leaders themselves become more effective, said Bina Kalola, head of strategic investments, global equities, at Bank of America Merrill Lynch.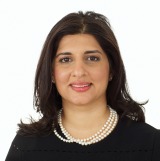 "I think it's so important," Kalola said of being a mentor. "As a leader, whatever that title may mean, you're responsible to be a mentor. And as a senior leader, to be a person's sponsor. We all have received the benefit of mentoring at one time of another. And if we all do it, then we're all better off."
[See All The 2013 Wall Street Women Winners]
Kalola's commitment to mentorship stems from being mentored herself. Paying it forward is one of the best parts of her job, she said.
When Kalola entered Wall Street back in 1990 for a Shearson Lehman internship, it was a fellow Barnard College alum, Jodie-Beth Galos, who helped the recent graduate of an all-female college get acclimated to male-dominated Wall Street. Kalola recalled that Galos was a "rock star," having the style, poise, smarts and panache to navigate the financial world.
"Everything that she worked on, I absorbed," Kalola said. "Whether she taught technical analysis or was simply giving an inspirational talk, as a senior woman at the organization it carried weight. She' d encourage me and say, 'Just go for it.'"
Even though it was only a summer internship for Kalola, that period had lasting implications. She'd draw on the lessons she learned that summer when she joined Salomon Brothers in 1991. Another mentor helped her get settled at the firm. At that time, she said, Salomon was quite intimidating and different from her college experience. The trading powerhouse was exclusively male, profit-driven and ultra-competitive. Barnard was none of those things.
"I had a fantastic mentor, Tom Favia, who was extremely approachable at Solly," she said. "When we talked, he listened. He afforded me an opportunity to grow the prop trading P&L, and as a result of that opportunity, I was noticed by the firm's general counsel, who gave me yet another opportunity."
When she was 23, Kalola met another mentor and confidant at Salomon: Audrey Strauss, now chief legal officer at Alcoa and another Barnard alum. The two have enjoyed a 20-year relationship that Kalola said refined her. She adds that Strauss is one of her biggest supporters, outside of her mom and dad.
"She mentored me to be excellent at work-to create a style that embraced me, and find the confidence to achieve my goals," Kalola said. "She saw potential in me that I could not see at that age."
Two other game changers for her were Rohit D'Souza, head of global equities, and Mike Stewart, the former head of global equities and former head of global execution at Merrill. Both convinced her to take a risk and make a big career shift from law to strategic investments.
But Strauss, she said, is who really influenced her to be a mentor. And a mentor Kalola has been, helping three people via Bank of America's formal mentorship program. Informally, she advises scores more within the firm and across all disciplines-from trading, sales and banking to operations and beyond.
"My door is always open," she said to those seeking advice. "Reading a book on something can give you only part of the whole picture. A live relationship can help you thrive and grow and provide so much more."