By now you know the outcome of the merger talks between NYSE Euronext and the Deutsche Boerse AG. As Traders Magazine went to press, it was unclear what would become of the yet-to-be-announced Deutsche Boerse's takeover of NYSE. Would a deal be struck or would it fall apart? Either way, it was certainly big news and even knocked the political unrest in Egypt off the top of the front page.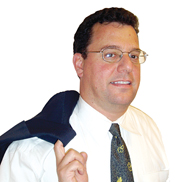 One story in this issue shares reactions to the potential deal. Most said they approved, explaining that investing today spans the globe. Caveats included concerns about whether U.S. retail investors would get the same fair shake in Europe as they get in the States. Also, one electronic trading sales exec wondered if less competition would mean higher fees down the road.
Such a deal would affect the options business, too. You'll notice a chart in our options section that outlines contract volume for single-stock options in Europe and the U.S., by each exchange operator. Staffer Peter Chapman tabulated the data from the Options Clearing Corp. and the World Federation of Exchanges to demonstrate exchange market share.
This month's cover story addresses program trading's large jump in the last year. Staffer James Ramage reviews how the buyside is doing more self-trading, due to better portfolio algos. That's both good news and bad news for the buyside. The good news is they have more control of their orders for these less-expensive trades. But the bad news is that this program trading increase is a result of the rise in passive investing, which is less profitable than actively managed portfolios. In a way, the top brass at money managers are facing what the heads of brokerage trading desks confronted when they saw their full-commission business whittled away by algorithms.
But competition will squeeze margins in any business. That's why it is surprising that a new brokerage firm has opened in today's tight commission environment. The firm, NativeOne, is a minority-owned brokerage and has a presence on the NYSE's floor. American Indians from the Morongo tribe in Banning, Calif. own 51 percent of the firm. But the actual traders hail far from the California desert, from less tribal regions like suburban New York and New Jersey. The firm bills itself as the first Native American member of the NYSE, and if the merger goes through, they might one day hold a similar distinction on the Deutsche Boerse.
Michael Scotti
Editorial Director
(c) 2011 Traders Magazine and SourceMedia, Inc. All Rights Reserved.
http://www.tradersmagazine.com http://www.sourcemedia.com/