Given the weak trading environment and steadily declining volume, as well as the uncertainty over the strength of the market and the economy overall, it may seem like an odd time for a financial firm to be ramping up its equities trading group.
But that is exactly what Philadelphia-based Janney Montgomery Scott LLC is doing. Further, this is no jump on the electronic trading bandwagon, but rather an old-school buildup of seats on the trading and research desks.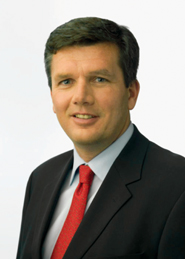 The 180-year-old firm has added sales traders, sector traders and research analysts and has designs on competing at the top level for trading business and client assets, said Greg Voetsch, one of the architects of Janneys expansion. Voetsch joined Janney Capital Markets as head of equities in January. And interestingly, he came not from some staid brokerage, but from KCG Holdings (formerly Knight Capital Group), where he was head of global equities.
Despite his background in Knights bailiwick of electronic execution and high-frequency trading, Voetsch hasnt brought the Knight trading model to Janney. Were not going to be in the electronic business or the program business, Voetsch said. We just want to be a traditional, full-service firm with a focus in research and sales and trading of cash equities.
To that end, Janney has added to its institutional equity effort, boosting the sales/research side to 27 professionals, from 19; increasing its sales and trading desk to 27 pros, from 15; its research unit, from 25 to 30 published analysts; and, in sector trading, from two to six traders. More specifically, the firm made the following moves:
In mid-March, Janney Capital Markets added 12 professionals-including nine from KCG-in sector trading, sales trading and research sales. The hires allowed the firm to increase its footprint in New York, Boston and Philadelphia, and open a new office in Atlanta.
In April, the firm promoted Andrew Maddaloni to the role of director of equity research. Maddaloni, a 15-year industry veteran, held equity research sales positions at Banc of America Securities, Credit Suisse and William Blair.
In late June, Janney hired three new senior equity research pros, covering the sectors of life sciences technology, REITs and forensic accounting.
This growth spurt has pushed up business revenue in the equity business 28 percent, year over year, even at a time when brokerage commissions have come down as much as 15 percent across Wall Street, Voetsch said. So, weve had a good move.
David B. Weiss, a senior analyst with Aite Group, said that over the past few months hes observed the trend that mid-tier firms are picking up newly available talent shed from larger firms. It may be opportunistic at the mid-tier level, because I dont see a lot of external reasons to be hiring traders now, given the market, Weiss said.
Janney Montgomery isnt the only firm bulking up right now. Cantor Fitzgerald has grabbed a team of exchange-traded funds traders from KCG Holdings; and BMO Capital Markets, the North American investment banking arm of BMO Financial Group (the Bank of Montreal), recently brought on a new head of U.S. equity sector trading and several new sales trading pros, picking talent from Barclays, Citigroup and Goldman Sachs. Additionally, several midsize firms cherry-picked many of the professionals cut loose by Nomura Holdings when it shuttered its entire equities trading business last October.
Voetsch explained that Janney Montgomerys unique business position-its a private firm owned by the Penn Mutual Life Insurance Co.-provides an opportunity to undertake this buildup despite the current trading environment. Penn Mutual is tremendously supportive of us, and its nice being in a private company where we can build out and not necessarily be looking at quarterly earnings as a measure of our performance, he said.
Voetsch explained he is simply building on the capital markets infrastructure the firm began putting in place five years ago, when industry veteran and Citigroup executive John Jordie Maine came in as the firms new head of capital markets.
When I got here, there was a good foundation, and we just needed to start putting the second and third floor on it, Voetsch said. Its been fun building while everyone else is kind of continuing to tear down and complain that the business is difficult-the business is always difficult. Whats more, he said, Janney is not encumbered by the legacy of the big investment bank model, where crushing infrastructure costs may curtail expansion or force retrenchment.
Tough Times
To see regional or mid-tier financial service firms and brokerages ramp up their trading desks and other operations isnt unusual, even during times of market turmoil. Indeed, during the financial crisis of 2008-09, trading desks at many mid-tier firms feasted on the talent being jettisoned by bulge bracket firms trying to survive the tumult. During that time, firms like Robert W. Baird & Co., Raymond James & Associates, William Blair & Co., Stifel, Nicolaus & Co., Sanford C. Bernstein and many others brought in top Wall Street talent and expanded deeper into areas like electronic trading and international coverage, bulking up their research and trading teams.
Still, there is the trading volume dilemma. Equities trading volume has dropped since March 2009 in the aftermath of the financial crisis, and there is little evidence it will rebound any time soon. Volume was down another 7 percent through the first half of this year, compared with the year previous, and August posted the lowest monthly volume in more than five years. Is this really a time to be building up a trading division?
Volumes are getting near a bottom, but they could stay at this bottom for a while, Voetsch predicted, adding that high-frequency trading volume is down-and that was a big part of the past growth in trading-institutional commissions and trading levels are down, and theres less portfolio turnover among fund managers.
Yet he and Janney are undaunted. You have to build a business thats sustainable in every type of market, he said. The firms expansion vision, as Voetsch described it, is built off the firms respected research arm, offering clients execution, liquidity and the service he knows theyre not getting at larger firms or from electronic platforms. And we know that a really good research business, supported by strong distribution on sales and sales trading, can be successful and really help service our clients.
Indeed, Janney has increased the number of accounts its doing business with, working with close to 800 client accounts this year, up from 525 last year. And that helps liquidity, and thats what all clients are looking for-they want to trade blocks of stock and want to get serviced well, Voetsch noted. (Janney, a private firm, doesnt release full financial statements, but does publish its annual balance sheet. For its year that ended in June, the firms unaudited statement showed its total assets had grown 43 percent to $3.22 billion, compared to $2.25 billion for the same period in 2012.)
Indeed, analyst Weiss said that in addition to picking up top-level talent, mid-tier firms can make a play for certain customers of larger banks because these customers may not be getting the attention they once did from these banks.
The big banks dont commit like they used to, Weiss said. In some areas of the market, such as OTC markets, derivatives and corporate bonds, youre seeing some of the big banks smaller customers move down to mid-tier firms for better service, he said.
For now, Janney may be taking a break from its rapid growth-Voetsch said the firm is where it wants to be as far as personnel go. The firms capital markets business overall is staffed by more than 300 people, the fixed income side is around 160 pros, and the investment banking group numbers more than 30. The firm focuses on just five vertical sectors: financials, healthcare, consumer, tech and industrial. Were not trying to be everything to everybody, but we just want to be really good in the verticals we service, said Voetsch.
Janney is in it for the long haul, Voetsch insisted, saying the firms focus will be on expanding its account base, getting deeper penetration on the accounts that it covers and developing more avenues of client service-a concept he calls mind-share-and growing that over time. It takes time to build a mind-share with your clients, and to continue to do that, but the nice part is that were going to continue to do that for a long time, he said. Were going to build a business thats going to be really strong for a long time at Janney.