Jennifer Pyrka, Senior Salesperson, Advanced Execution Services (AES) Sales Team, Americas Cash Equities, Credit Suisse won Excellence in Electronic Equity Trading: Sell Side at Markets Media Group's 2021 Women in Finance (U.S.) Awards.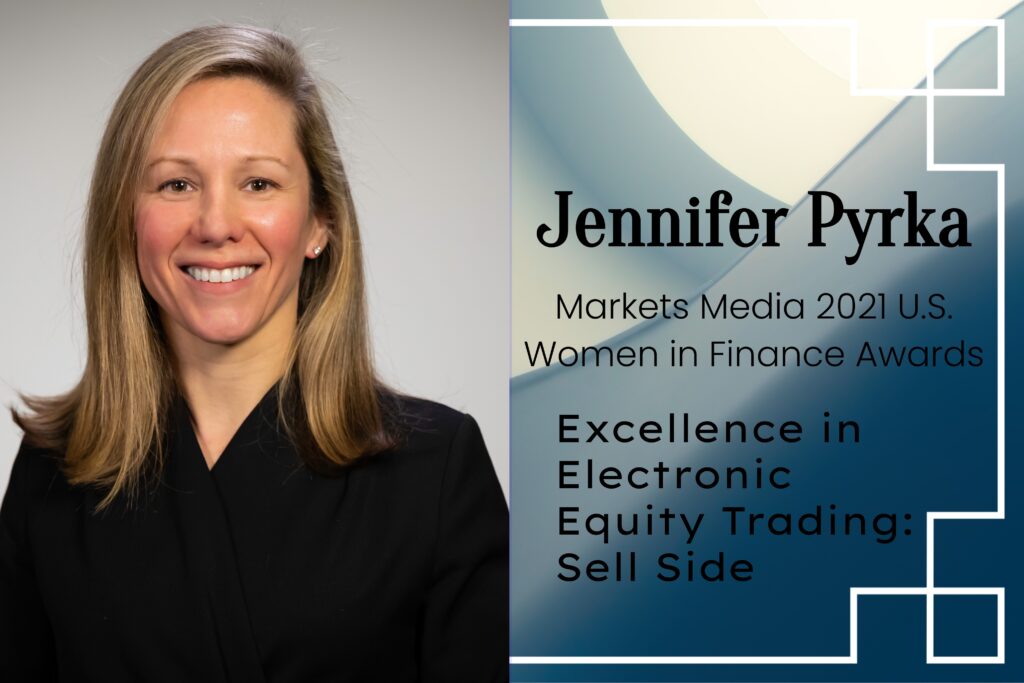 What was your reaction to winning the award?
I was humbled by the recognition. I am incredibly lucky to work with a great team of people. This award is truly a reflection of the entire global electronic team at Credit Suisse.
What have been the main drivers of your success?
Passion, perseverance, grit.
What's your motivation for going to work every day?
Professionally, to win. Personally, to set an example for my children.
I enjoy the camaraderie of our team and am fortunate to be surrounded by people that are talented and ambitious.
Who have been the main influences in your career?
First and foremost, the main influence in my life is my mother. I learned the value of hard work and steadfastness from her.
I try to take something away from each experience and am privileged to have interacted with high caliber mentors, both women and men, over the years. They've helped me conceptualize issues, develop my strategic thinking, and give back to the community.
It's also not just about who, but what has influenced and encouraged me, for example reading about the broadening diversity in the CS Gender 3000 Report from the Credit Suisse Research Institute. It finds that "between 2015 and 2021, the percentage of women on boards has increased by 8.9%and more than doubled if compared with the start of the decade. The average percentage of women in senior management has also improved from 12.9% in our 2014 report to 19.9% in 2021." That's inspiring.
Why did you decide to pursue a career in finance?
I started my studies as a psychology major because I was very curious about human behavior but decided to transfer to study accounting.
After graduation, I started my career with Brown Brothers Harriman through a rotational program, jumped on the dot com train, and then moved to what was then Brut ECN (now a part of Nasdaq). This is where I first started my career in electronic trading. After a few years, I had the opportunity to join the Advanced Execution Services team at CS and was drawn by the entrepreneurial energy from the team.
My path has not been a straight one but I feel very fortunate for all the experiences and people that have shaped me along the way.
What do you now know that you wish you had known at the start of your career, and how would it have impacted your choices along the way?
Focusing on what you bring to the organization above and beyond your specific role is really what will set you apart. Being great at your job isn't enough to make you a steward of the corporate mission and separate you from the pack.
What's your advice to the next generation of women in finance?
Intellectual curiosity is easy to recognize but hard to implement. It's what pushes you to ask the questions that aren't obvious and learn things that most people don't think to ask. That curiosity will not only make you the smartest person in the room but also continuously inspire you and engage you. The worst thing you can do for your career is be complacent. Let that curiosity keep complacency at bay.