TrueFX won Best New Product in the 2020 Markets Choice Awards.
Markets Media caught up with Harpal Sandhu, CEO of Integral, the technology provider for TrueFX, to learn more.
What is your reaction to TrueFX winning Best New Product in the 2020 Markets Choice Awards?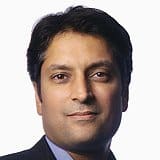 First and foremost, I would like to take this opportunity to thank Markets Media and their readers for voting TrueFX as Best New Product in this year's Markets Choice Awards. We were beyond thrilled at being nominated in this prestigious category. To then win the award was a real honour, particularly given the relatively short time our service has been in the market.
Please describe what TrueFX is all about — what are the primary capabilities and how does it differentiate?
Simply put, TrueFX is an accessible and centrally cleared OTC venue that has been purpose-built for the buy-side, or all natural takers of FX liquidity, including FX brokers, macro hedge funds, asset managers, and also regional banks.
The venue has been designed to bring improved efficiencies across all three layers of the FX market: Credit, Technology, and Liquidity. Costs have been significantly reduced by simplifying the credit and transaction workflow in a self-contained environment and therefore providing better access to liquidity for all participants.
TrueFX is a best-of-breed solution, with Jefferies FXPB acting as the credit intermediary and Integral provisioning the technology platform to the network.
What was the 'story' behind TrueFX launch, i.e. what market gap was it designed to fill?
There was a clear need to provision the buy-side with a solution that offered seamless access to credit and technology and could connect market participants at low-cost.
The legacy credit environment had become an increasingly difficult service for the buy-side to navigate. Jefferies FXPB credit intermediation through the TrueFX environment helps solve this by offering a centralized and efficient self-contained credit ecosystem that ensures the user can access, maintain and optimize their credit lines at all times.
Historically, having access to the right technology has also been an expensive undertaking for the buy-side, with each firm having a slightly different use case and legacy trading platforms not necessarily designed to meet this audience's specific trading needs. TrueFX was built with the automation and workflow efficiencies of a buy-side audience in mind, including access to multiple trading styles and trading counterparties through a single connection; powerful integration tools, and an environment that is small ticket friendly.
In line with the TrueFX philosophy of opening the FX market up to the widest possible user base, the buy-side can use TrueFX technology and trade for free. Combined with significantly lower credit fees, total costs are reduced by up to 80%.
What has been the market response / main milestones since TrueFX launched in Nov 2019?
We've achieved a great deal in a very short time frame thanks to our partnership with Jefferies FXPB and the application of our ultra-low latency cloud technology. Of course, it goes without saying the immense support we've received from market participants has helped accelerate the service to its current status.
After announcing TrueFX to the market in November, we went on to complete the first live trades and officially launch the service. During this period, we also launched the TrueFX clearing network, which allows smaller FX brokers and buy-side institutions to directly access liquidity on the venue by opening an account with a TrueFX Clearing Member.
We continue to make new enhancements to the service, such as the recent implementation of enhanced netting tools, and have designed a small ticket friendly trading environment which will be of particular interest to retail brokers who will now be able to submit tickets a third of the cost of their existing service providers.
How has TrueFX fared amid the extraordinary recent market conditions? Is the platform more valuable amid high volatility?
Like all Integral technology, TrueFX is built in an ultra-low latency cloud-based environment. There is now clear evidence of how powerful and even necessary cloud technology is. FX is ideally suited for cloud-based systems because they provide much faster deployment and time to market, as well as a more agile upgrade/enhancement cycle. An ever-evolving business requires a technology stack that keeps up with industry best practices and the TrueFX cloud-based infrastructure is built with this in mind.
The current market environment has demonstrated the need for stable and resilient trading infrastructure. During this period of remote working, we are pleased to report our clients have been able to securely access and trade in the venue's low-latency cloud-based environment with zero disruption to service.
What does the future hold for TrueFX?
We've been thrilled by the extremely positive reaction received from the market since we went live earlier this year. We are now responding to significant demand from clients looking to onboard and we look forward to the continued adoption of the service by buy-side and regional bank participants.
Importantly, we continue to invest in enhancing the service and to ensure we maintain a high degree of innovation to help solve our client's evolving trading needs.