Venture capital investment in blockchain and cryptocurrencies in the first half of this year was more than double the whole of 2020 according to KPMG's Pulse of Fintech study.
The bi-annual report said investment in blockchain and cryptocurrencies in the first six months of this year beat the previous annual record from 2018.
KPMG highlighted that a significant amount of institutional money flowed into the crypto space, showing the broadening of the investor base.
"Investor awareness and knowledge of the sector is growing, with investors now having a much better understanding not only about crypto assets, but also the operational and procedural side of crypto — from custody and storage to storekeeping and the competitiveness and maturity of service providers," said the study.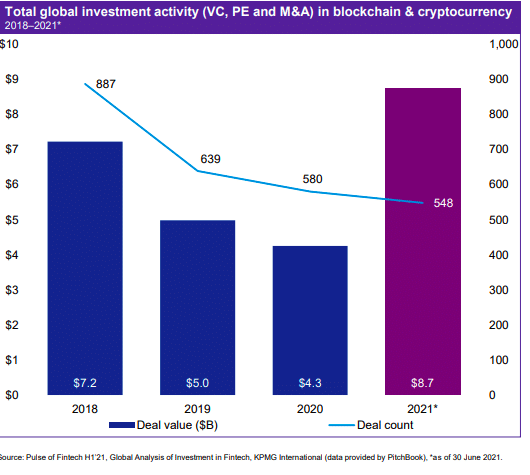 A number of firms raised more than $100m in funding rounds, including BlockFi ($350m), Paxos ($300m), Blockchain.com ($300m) and Bitso ($250m).
There is also increasing interest in non-fungible tokens (NFTs) which allow trading in new or previously illiquid asset classes, such as professional real estate or art, as they are tokenized or fractionalized.
KPMG predicted that in the remainder of this year the cryptocurrency space will continue to mature; there will be stronger separation between cryptocurrencies and the use of blockchain technologies; further focus on regulatory frameworks, and the evolution of exchanges focused on areas such as NFTs.
The interest in crypto has also led to a major uptick in regulatory technology firms focusing on the sector. For example, the study said Bullish Capital raised a significant amount to develop a blockchain-based cryptocurrency exchange platform that blends the performance, user privacy and compliance benefits of central order book technology with the user benefits of decentralized finance.
Fintech investment
Global venture capital investment in fintech reached a record $52.3bn in the first half of this year, more than doubling the $22.5bn in the same period last year according to the study.
Ian Pollari, KPMG's global fintech co-lead, said in a statement: "Overall investment in fintech surged to a record high in the first half of 2021 as investors, particularly corporates and VC investors, made big bets on market leaders in numerous jurisdictions and across almost all subsectors. Large funding rounds, high valuations and successful exits underscore the thesis that digital engagement of customers that accelerated during the pandemic is here to stay."
Overall fintech investment in the US reached $42.1bn in the first half, with venture capital investment reaching a record $25bn.
"Big deals included a $3.4bn raise by Robinhood, a $600m raise by Stripe, and $500m raises by Better, ServiceTitan, and DailyPay," said KPMG.
The study continued that the global trend of increasing corporate participation in investment was particularly pronounced in the Americas, with $12.8bn of investment in the first half of the year, compared to $11.4bn during all of 2020.
Europe, Middle East and Africa also had fintech investment of $39bn in the first half, more than 2020's annual total of $26bn.