FLASH FRIDAY is a weekly content series looking at the past, present and future of capital markets trading and technology. FLASH FRIDAY is sponsored by Instinet.

Today marks 19 years since Sept. 11, 2001.

The years pass but the memory of that unthinkable day doesn't fade. That applies especially to the financial industry, as the World Trade Center in Lower Manhattan was the epicenter of the deadliest terror attack in history. The lives of many people who just went to work that day were lost, and everyone in the business knew people who were killed.

The October 2001 issue of Traders Magazine was, suitably and poignantly, a tribute to the fallen.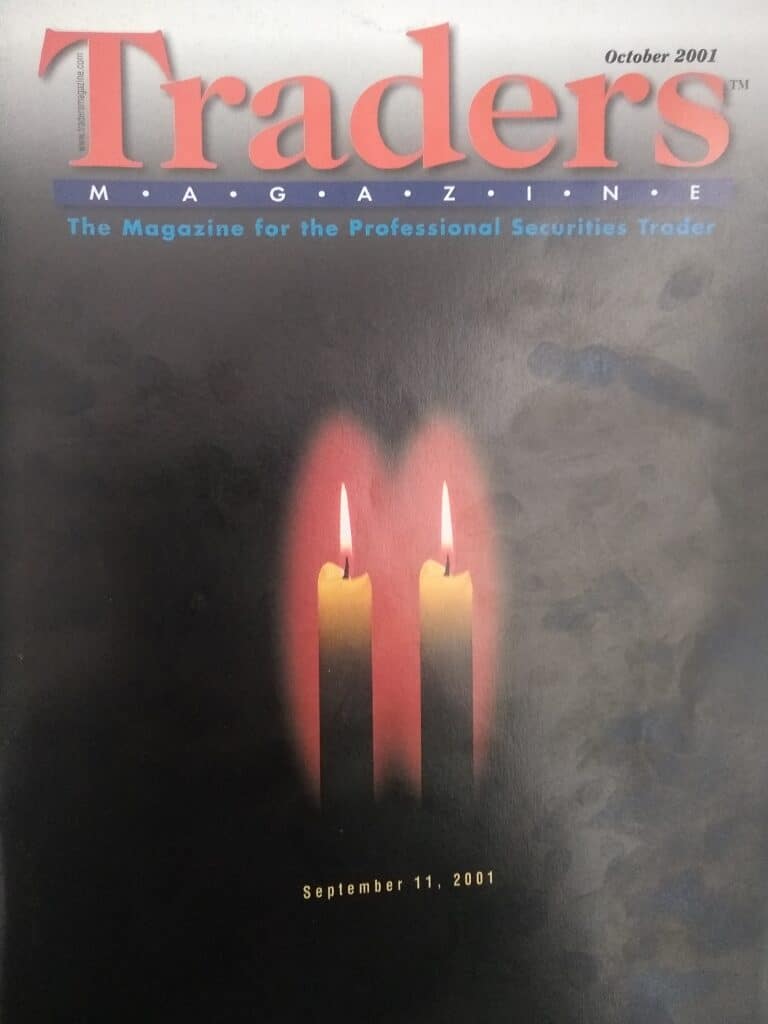 From the letter from then-Editor Peter Byrne:

"This is the most difficult issue Traders Magazine has ever put to press. It is not easy to compile a record of how the attacks on one of the most visible symbols of Wall Street's strength and American power, the World Trade Center, changed our lives in a sad and deeply distressing manner.

…the people closest to our own community have demonstrated, during these difficult weeks, an amazing resilience and sense of solidarity. The trading community has mourned and grieved for lost members. It will undoubtedly take a long time for many to come to terms with their sad losses. At the same time, there is an uplifting spirit in the air as Wall Street firms, normally rivals, have put aside competitive concerns to assist each other in the physical and psychological rebuilding.

…Our coverage in this issue will take a look at the events as a human tragedy and as an act that will not break the indomitable spirit of Wall Street trading."

Byrne nailed it.

Pages later, the feature article in that Oct. 2001 issue was "Faith, Hope and Charity: The Sorrowful Mysteries in Death and Destruction", which recounted numerous personal experiences of 9/11. There was also "Traders on the Frontline", which explored how 9/11 thrust traders onto the front line of the war to protect democratic capitalism. A third feature was "Terrorist Creates a Financial Phoenix", about the stock market reopening on Sept. 17.

There also was a number of somber messages from a mix of advertisers — some who still exist today, some who don't. These include Knight, Nasdaq, Donaldson, Bridge Trading, and Schwab.

Fast forward 19 years. There will be remembrance ceremonies and moments of silence on Friday morning, but then it'll be back to business. Similar to September 2001, trading in September 2020 amid COVID-19 isn't business as usual. But it's business, and business goes on.