Digital Asset is well-known in financial services for building enterprise blockchains for stock exchanges but the firm has a larger vision of using its latest funding round to continue building interoperability between networks around the globe, regardless of their underlying technology.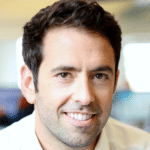 Yuval Rooz, co-founder and chief executive of Digital Asset, told Markets Media: "We have all these customers that are isolated from one another but we're seeing the world moving to becoming more connected. We don't think that you need to choose a winning horse in order to be connected."
Digital Asset has developed Daml, an open source smart contract language that developers can use to write and deploy full-stack, distributed applications for distributed ledger technologies, blockchain or tradition databases in just days.
Rooz said: "The vision of the company is to create a global economic network by allowing different Daml implementations to interconnect with one another, independent of their underlying technology."
He explained in a blog that connectivity has traditionally been added after the fact as wrappers around antiquated systems or as predefined interfaces at the edges of applications, with no consistency guarantees in between – both internally between silos within organisations and externally between organisations.
"Our vision is for a world of countless systems, each powered by infrastructure that suits their own unique requirements," wrote Rooz. "As long as they are truly interoperable, meaning it doesn't matter what technology they are running on and no new single point of failure is introduced, it shouldn't matter. This is how the internet, a network or networks by name, works, and so should the future of commerce."
In April this year Digital Asset raised more than $120m it its latest funding round from private equity firms 7RIDGE and Eldridge, which it will use to expand its team globally by 50% this year.
The company also announced that Carsten Kengeter, former chief executive of Deutsche Boerse and former chairman and chief executive of UBS Investment Bank, and 7RIDGE's Veronica Augustsson, former chief executive of Cinnober Financial Technology, have joined the Digital Asset Board.
Kengeter said in a statement: "Using Daml, organizations can move to a data-centric business model. Write Once, Run Everywhere, Connect to Anything."
Last year Digital Asset tripled its customer base, with half of new business coming from non-blockchain deployments.
Emnet Rios, chief financial officer and chief operating officer at Digital Asset, said in a statement: "We saw significant demand for Daml to solve internal challenges of data silos within an organization. As a result, we expanded our product portfolio to support 10 different underlying ledgers, including traditional databases."
Client base
Rooz continued that Daml is a really good tool for managing very complex data systems that are multi-party in nature – when different parties can see different things or do different things with the data.
The majority of Digital Asset's clients are in financial services but the technology is also being used in other sectors such as healthcare, which is multiparty in nature in the US, in insurance and sports betting.
For example, BNP Paribas Securities Services is using Daml to build apps for the DLT platforms being developed by the Australian Securities Exchange (ASX) and Hong Kong Exchanges & Clearing Limited (HKEX) using Daml.
Luc Renard of BPSS APAC said in a statement: "We believe that Daml has the potential to emerge as a new standard for international capital markets. As a platform-agnostic, smart contract language, it can be used by almost any trading and settlement platform an exchange might select."
Digital Asset is working on ASX's Chess post-trade platform. In November last year HKEX said it will use Daml to launch Synapse, a new settlement platform for its Stock Connect program between China and Hong Kong. Synapse will integrate with the US DTCC's institutional trade processing services to allow international investors to automate and accelerate the settlement process.
HKEX said the settlement process is currently cumbersome, dated and difficult to track as it needs bilateral communications across a variety of platforms.
"Each participant is required to check and enrich data about the trade, matching and reconciling it with their counterparties before instructing the next participant in the chain – eventually producing final settlement instructions to the exchange," added HKEX.
Xpansiv, the global marketplace for environmental, social and governance-inclusive commodities, also announced in April this year that it will be using Daml for its infrastructure to transform raw physical commodity data into tradable ESG assets.
Joe Madden, chief executive of Xpansiv, said in a statement: "The ESG wave continues to build. Now it's time to scale, which requires process standardization and interoperability."
Rooz said that using Daml to underpin the infrastructure for new data-driven, ESG-inclusive assets, such as methane performance, GHG intensity, and carbon-removal products, will drive liquidity and enable these new markets to flourish.
He continued that Digital Asset is seeing a lot of interest in interoperability, particularly for central bank digital currencies.
By the end of this year Rooz is aiming for more clients to go into production with Daml and for the global economic network to become more visible.