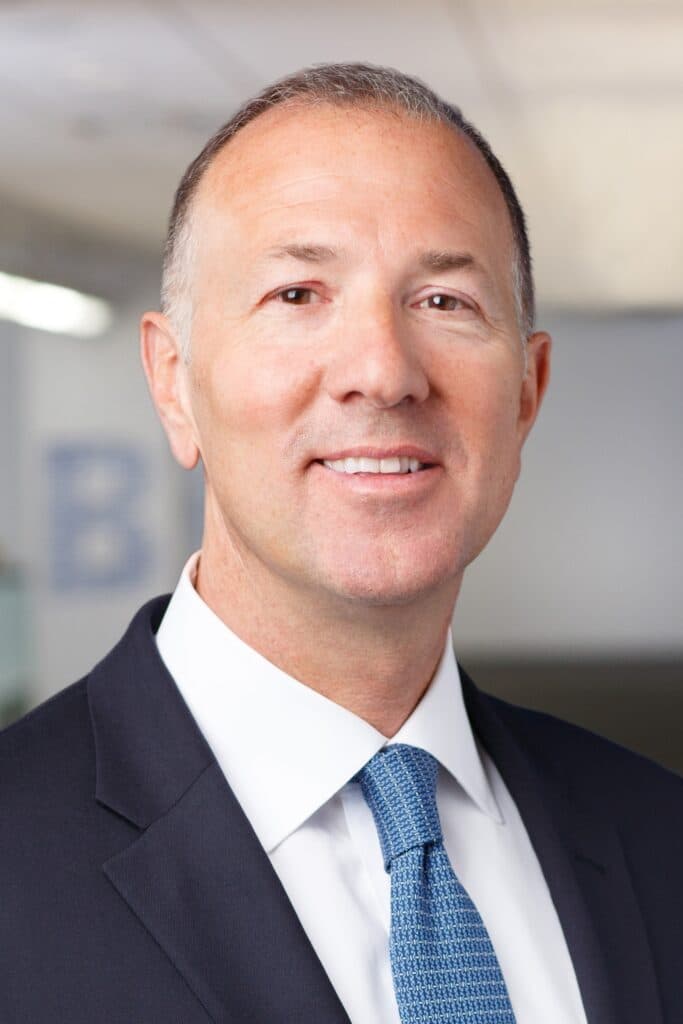 Cboe Global Markets' planned acquisition of ErisX remains on track to close very soon, subject to customary closing conditions, which will allow the launch of Cboe Digital with spot trading, data, and clearing capabilities for digital assets and derivatives.
Edward Tilly, chairman, president and chief executive of Cboe Global Markets, said on the results call: "This is a pivotal moment for Cboe as we re-enter the digital asset market and we couldn't be more excited to apply our blueprint of success – operating trusted, transparent, regulated markets – to digital assets."
Cboe was the first exchange to launch bitcoin futures in December 2017 but stopped listing the contracts in March 2019.
CME Group has launched crypto derivatives and launched micro-sized bitcoin and ether options in March 2022. The exchange said in its first quarter results that nearly 5.2 million combined micro bitcoin and micro ether futures contracts have changed hands since launching less than a year ago, and Large Open Interest Holders (LOIH) reached a quarterly record.
Tilly continued that Cboe believes it can play a guiding role in shaping the trajectory of the digital asset market and has been actively engaged with regulators as they shape policy for the nascent asset class.
"Additionally the ErisX application for margin futures is currently in review at the US Commodity Futures Trading Commission," he added. "We look forward to welcoming the ErisX team to Cboe and accomplishing great things together as Cboe Digital."
Chris Isaacson, chief operating officer at Cboe, said on the call that the group was really excited about closing the deal. He added: "With one transaction we get a spot trading platform, data, derivatives and clearing. As you think about the opportunities for revenue that is where we scale and look for syndication with industry partners."
Cboe Digital will look to add new coin listings for spot trading which will provide new data opportunities.
"We have a margin futures application before the CFTC that is focused on FCMs so we look forward to growing Cboe Digital's derivatives business," added Isaacson. "Clearing is a real key asset that we get with ErisX for us to grow and we think there may be some bilateral relationships that can clear over time."
Competition in digital asset derivatives is increasing. Crypto venue FTX US acquired LedgerX in 2021 to launch a regulated derivatives business. Once the deal completed in October FTX US Derivatives gained a CFTC regulated designated contract market, swap execution facility, and derivatives clearing organization.
FTX US has applied to the US Commodity Futures Trading Commission to operate a regulated 24/7 derivatives markets offering a range of traditional products in addition to crypto with a market structure that would allow participants to clear directly, rather than through a futures commission merchant.
Terry Duffy, chairman and chief executive of CME Group, said on its results call that the derivatives exchange will oppose the FTX proposal.
Trading hours
Tilly said there had been solid momentum in trading SPX and VIX options since launching Global Trading Hours on a 24 hour and 5 day basis in November 2021.
In the first quarter of this year average daily volume in SPX options during Global Trading Hours increased 164% year-over-year, more than double the volume prior to the launch of 24×5. Average daily volume in VIX options during Global Trading Hours increased 14% year-on-year while VIX futures volumes increased 19%.
"Although still in its early days, the incremental volume we are seeing as a result of our 24×5 enhancements has already generated an attractive return on our 2021 investment," said Tilly.
Isaacson added that the company is driven by customer demand and will listen to requests for 24×7 trading, as it did when it launched 24×5.
"ErisX already trades 24×7 and we are expanding our index platform to 24×7," said Isaacson. "That is part of one of our strategic projects this year. We will provide more around-the-clock access when demand is there."
Geographic expansion
Tilly said European derivatives exchange CDEX continues to gain momentum and Cboe is pleased with the progress made since the launch in September 2021.
"Volumes continue to grow and we reported over 6,000 contracts traded in the first quarter, an almost four-fold increase on last quarter's volumes," he added .
This week CDEX launched futures and options on four additional country indices.
Net revenue in European equities increased 37% as industry average daily notional value traded increased 31%. Cboe's market share in European equities rose 5% year-over-year to 21.8%, the highest since the first quarter of 2019, according to Tilly.
He said the results were driven by the expansion of data and analytics services to help clients achieve best execution, not just a favorable market backdrop.
"On the U.S. equities side, we were pleased to launch periodic auctions on our BYX exchange earlier this month and hope to replicate the success we've had with our European periodic auctions offering," added Tilly.
In Asia Pacific, Cboe Japan market share increased in the first quarter to 3.8% from 2.9% in the fourth quarter 2021 which Cboe said was a result of a new liquidity provider program. In Australia Cboe is preparing to list Asia Pacific's first crypto exchange-traded funds in the coming weeks.
In Canada Cboe completed the migration of MATCHNow, the country's largest equities alternative trading system, to Cboe technology in February. In addition Cboe BIDS Canada launched to enhance equities block trading.
"It's important to note that these enhancements are already benefiting from our platform with the migration of MATCHNow improving latency and institutional activity increasing with over 10 sponsoring brokers signed on as Cboe BIDS Canada sponsors," said Tilly.
In Canada Cboe also expects to close its acquisition of NEO in this quarter, subject to regulatory approvals and customary closing conditions. NEO Exchange is a Toronto-based Canadian stock exchange operator with listings, trading and market businesses. Sister company, NEO Connect, provides a distribution platform supporting mutual funds, private funds and private corporates.
Results
Cboe reported record quarterly results following a record year in 2021.
Tilly said: "Not only did our core derivatives franchise perform remarkably well during the quarter, but we saw strong contributions from areas like our European cash equities and our Data and Access Solutions businesses, underscoring the power of the flywheel at the heart of Cboe's global value creation model."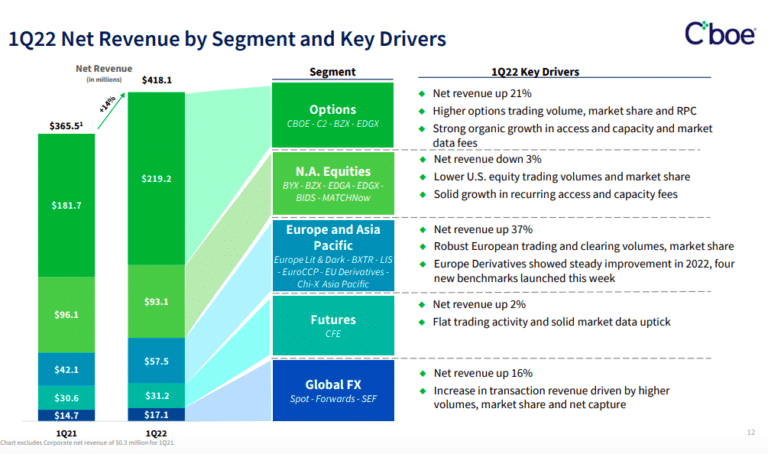 Data and Access Solutions had record results during the quarter with revenues increasing 18%. Cboe Global Cloud, a cloud-based market data streaming service launched during the fourth quarter and Tilly said it is gaining traction with customers.
"We plan to further expand the data set offered via Cboe Global Cloud this summer with the addition of European equities data, which we believe will further expand the customer base accessing our data via the cloud," he added.
Cboe increased its 2022 targeted organic growth rate for Data and Access Solutions to between 8 % and 11%, up from 7% to 10%.