John Tognino, a past STA Chairman, passed away on December 19, Traders Magazine has learned.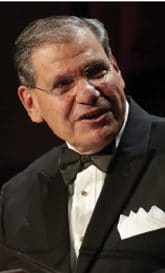 Tognino, who died at the age of 83, had a career in the financial services industry spanning over 50 years.
He was formerly EVP and Head of Global Sales and Member Relations for the NASDAQ Stock Market, President and CEO of the Securities Traders Association (STA) and EVP of Capital Markets and Trading at Charles Schwab & Co.
He spent over 35 years of his career with Merrill Lynch and was the former Managing Director of Global Equities.
"Devastated to hear this news about John. He was a truly great man," said Bob McCooey, Senior Vice President at Nasdaq. 
"He was a leader for the STA and on all phases of his life. Rest in peace John," added Julian Flores, Financial Advisor at Morgan Stanley.
Jim Toes, President & CEO, STA, shared his memories of Tognino on his LinkedIn profle: "It was sometime in late 2010 when the two of us sat down for lunch. He was 25 years my senior, but his energy and sharpness of mind outstripped mine. "Jimmy, let me tell you something my friend, STA needs you. Our industry needs you in that seat. How can I help?" That was typical John Tognino. The only thing bigger than his visions was a desire to help others. He was a mentor and a leader to so many in our industry, and tomorrow John will be laid to rest."
 
Toes added that Tognino will be remembered most for the work he did in service to others.
"John embodied what it means to be a true philanthropist. He served as the Chairman of the Board Trustees at his alma mater, led charitable endeavors for several medical centers, and was always willing to help an individual in need – like having lunch with a middle-aged father of four struggling to figure out his next career move. That is how I will remember John. He was there to lend a hand and he never expected anything in return. I know there are hundreds of others who share similar thoughts and have similar stories as mine," he said.
 
"John's life was filled with bold accomplishments and simple acts of kindness. An honorable man who now deserves all the peace that can found in the hereafter. Rest in Peace, John Tognino," he said.
Tognino was also the former Chairman of the Board of his alma mater, Fordham University. He was also the former Senior Vice Chairman of the Board of St. Barnabas Hospital in the Bronx and former Chairman of the Board of the Union Community Health Center in the Bronx. He was also a member of the Board of Directors of the Muscular Dystrophy Association.
A Mass of Christian Burial will be held at the Fordham University Church on Wednesday, December 29, 2021 at 10 am.
Out of an abundance of caution, the Mass is limited to family members but will be live streamed by Fordham University.  
Interment will be private.
In lieu of flowers, contributions may be made to the Tognino Family Endowed Scholarship, Fordham University or Weill Cornell Medical College, Office of External Affairs, 1300 York Avenue, Box 314, New York, NY 10065, to benefit the Parkinson's Disease and Movement Disorders Institute in the Department of Neurology.