Overall trading volume in March dropped 7.5 percent, according to Nasdaq OMX statistics. Daily volume fell from 6.6 billion shares a day last year to 6.1 billion this year.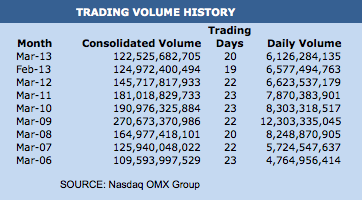 The biggest drop came at the Nasdaq Stock Market , where volume was down 21.7%. Daily volume of 938 million shares was down from 1.2 billion shares a year ago and 1.0 billion a month ago.
The one exchange operator among the big four showing a gain was Direct Edge, whose two venues showed 8.4 percent more activity this year than last.
EDGA and EDGX, together, handled 774 million shares a day in March, up from 714 million a year ago.
But even that was a drop of 1.9 percent against a month ago. In February, Direct Edge handled 789 million shares, daily.
Volume at the three NYSE Euronext exchanges – the New York Stock Exchange, NYSE Arca and NYSE MKT – was down 13.8 percent, against a year ago.
Average daily volume of 1.5 billion shares was also down 2.7% against February.
BATS Global Markets said average daily volume at its Z and Y exchanges was 652 million shares in March.
That's down 9.8 percent from the 723.3 million a day of a year ago and 10.3 percent from the 727.4 million handled daily in February.