FLASH FRIDAY is a weekly content series looking at the past, present and future of capital markets trading and technology. FLASH FRIDAY is sponsored by Instinet, a Nomura company.
As it's July 4 weekend, Flash Friday is pleased to deliver some lighter, summer-themed fare: flashback photos from Markets Media Group's 2012 Summer Trading event.
As we described in last year's retrospective of 2011 Summer Trading, the annual July NYC event, now defunct, was meant as a quick hit — a few afternoon panels followed by rooftop networking. Possibly the last industry event before the summer getaway season.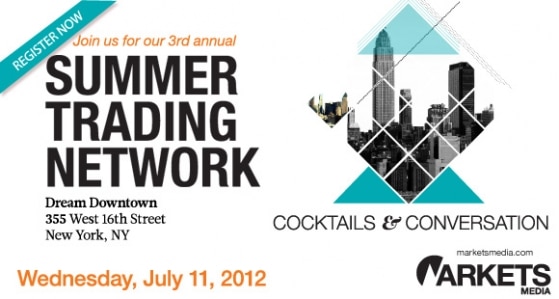 Summer Trading 2012 content included remarks on fixed income electronic trading from MarketAxess CEO Rick McVey, and the equities perspective by Joe Mecane, then of NYSE Euronext (now with Citadel Securities). The two panels on the agenda were "The Trading Desk of the Future", and "What is the Ideal Market Structure?" There was also a 'lightning round' of market structure questions with Ben Schwartz, then of Lightspeed Financial.