FLASH FRIDAY is a weekly content series looking at the past, present and future of capital markets trading and technology. FLASH FRIDAY is sponsored by Instinet, a Nomura company.
There was an interesting bit in my daily Quora digest this past Wednesday: How high above ground was the Windows on the World restaurant at the World Trade Center?
The highlighted response gave the precise answer (1,298 feet), some history of the restaurant, and of course, an account on the space's tragic last day of Sept. 11, 2001. It also included what is apparently the only surviving photograph of the doomed Risk Waters conference, which was held at the restaurant that morning.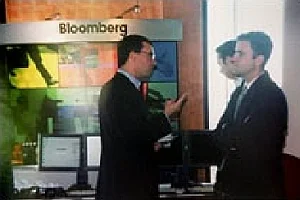 In that photo, the guy on the right, with his arms folded in front of him, was my friend Bill Kelly Jr.
I knew Bill starting in the late 1990s when I shared a summer rental house with friends on Long Beach Island, NJ, where Bill had a long family history. We ran in similar social circles on LBI, and we also both happened to work at Bloomberg in New York City. I forget if we first struck up a conversation on LBI from recognizing each other from Bloomberg, or vice versa, but Bill was the kind of guy who once you met him, it immediately felt like you had known him for 20 years.
I would see Bill around lots given our common weekday grind at 499 Park Ave, NYC and our summer weekend getaway of Beach Haven. He was in sales for Bloomberg Tradebook and I was a reporter for Bloomberg News, so we didn't work together. But we'd chat on the subway or in the office food court about the previous or upcoming weekend, and we'd catch up at various LBI watering holes. 
I wasn't close friends with Bill — just didn't know him long enough. But I do remember him as a super nice guy, always warm, smiling, friendly and genuinely interested in what you had to say. I recall one time at an LBI bar he bought a round for me and my friend for no apparent reason, which prompted my friend who didn't know him to inquire as to the identity of the generous stranger. That was Bill.
So it hit me extra hard when I read the company-wide message from Mike Bloomberg a day or two after Sept. 11, that Bill Kelly was one of three Bloomberg employees who were in the trade center when the planes hit, and not accounted for.
Bill was one of 2,977 people who died on that awful day.
What would Bill Kelly be today, at age 51? For starters, a family man, most likely. Regarding career, if he stayed in our industry, I see him as head of sales at a fintech somewhere, or quite possibly, a C-level exec. He absolutely had the people skills and the smarts for that.
Did he have the drive, the motivation to get ahead in the corporate world? That I'm not sure about. I could just as easily see him as a teacher who runs a surf school on LBI in the summers, or in some other non-corporate career where he's helping people, most likely kids, and enjoying himself. In whatever path he chose, I'm certain he would have continued the success he had already achieved by age 30.
As we approach the 21st anniversary of the 9/11 attacks, it's great to see how Bill's family and friends are keeping his legacy alive. The Bill Kelly Jr. Memorial Scholarship has award more than $1.2 million to deserving students at the University of Scranton, Bill's alma mater. And the 21st annual Bill Kelly Jr. Memorial Golf Classic will be held on Oct. 7 in Somers Point, NJ.
It's no mean feat to keep these initiatives going after more than two decades. It's a tribute to, and reflection of, the lasting impression Bill left on the world.