FLASH FRIDAY is a weekly content series looking at the past, present and future of capital markets trading and technology. FLASH FRIDAY is sponsored by Instinet, a Nomura Company.
Overall, 2020 will go down in history as a uniquely awful year, as the Covid-19 global pandemic took almost 2 million lives worldwide and altered life as we know it from mid-March. 
But there were bright spots, one notably being capital markets. People adjusted to work-from-home routines; after a rapid and scary drop, financial markets came roaring back; and trading activity was brisk.
One area that was especially hot was options trading. In a year where Barstool Sports' Dave Portnoy became an internet celebrity for his stock picks, everyone and his/her brother-in-law had a view on where Tesla (TSLA), Facebook (FB) and Amazon stock was headed next. And with everyone bored from staying home and enticed by "free" trading, they placed some chips on the table; equities are fine, but options have more juice.
To be sure, retail was strong, but the robust 2020 options marketplace was driven by institutional investors, who found lots of opportunities to speculate or hedge in volatile markets.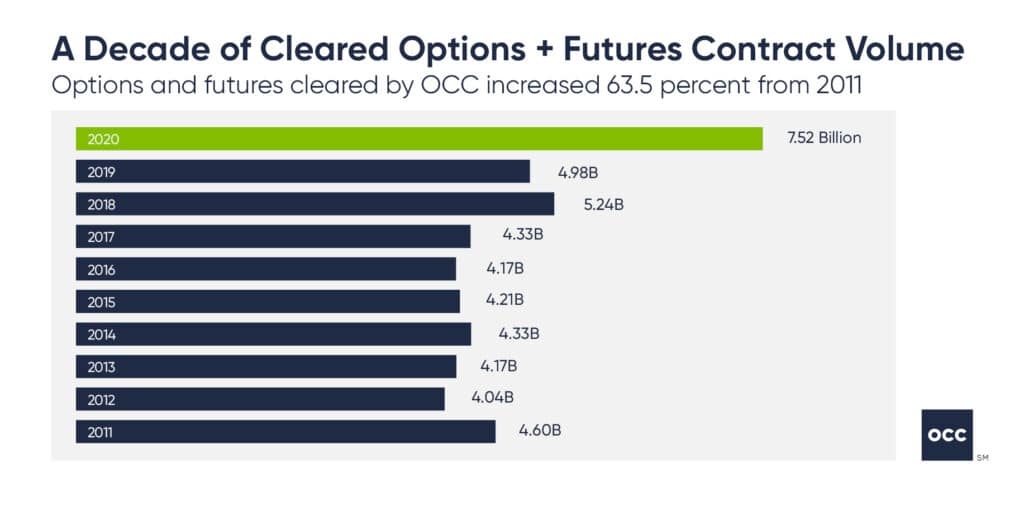 How strong were derivative markets last year? Well, the 7.52 billion total options and future contracts cleared was a 51.2% increase. That's right, 51.2%, not 5.12%. And this is in a mature market.
The 7.52 billion number is within spitting distance of 8.21 billion contracts — which was the combined volume in 2012 and 2013.
When options volume idled for a few years about a half-decade ago, it was said that there were too many options exchanges, trade handlers and technology providers, because the industry was built for growth and growth had stalled. 2020 has put that notion to rest, and even if volumes level off as they're likely to do, 6 billion or 7 billion contracts per year makes for a healthy market.