FLASH FRIDAY is a weekly content series looking at the past, present and future of capital markets trading and technology. FLASH FRIDAY is sponsored by Instinet, a Nomura company.
Pop into the Maus & Hoffman on Beachland Boulevard in Vero Beach, Florida, and you might just get fitted for a Solamare Italian Hopsack Blazer or a Duke Cashmere Check Sport Jacket by a former president and CEO of the Security Traders Association.
"I'm neither a fisherman, golfer, nor a handyman," said John Giesea, who headed the STA from 2001 through 2011, following a 34-year brokerage career at Kidder Peabody and Advest. "But I enjoy people. Our business is a snowbird business, and I connect with a lot of the financial people from Boston or New York and beyond. It's enjoyable for me in my 'retirement' to meet and greet people 100 yards from a beautiful beach in such a pleasant environment."
Giesea appeared on the cover of Traders Magazine in October 1994 and then again in December 2001.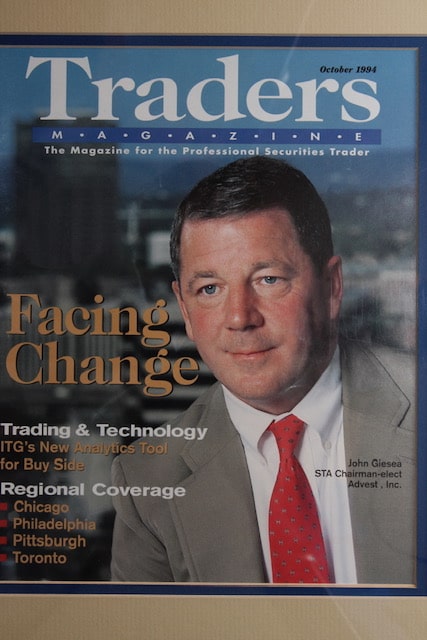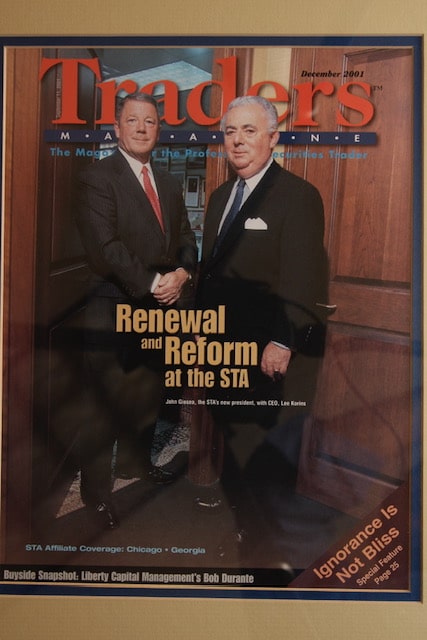 Traders Magazine caught up with Giesea this week to learn more.
Talk about your early days in the financial industry?
In 1967 Kidder, Peabody purchased Pacific Northwest Co., where I was a trader in Portland. Shortly thereafter I was invited to manage the San Francisco trading department. I am a native San Francisco and the offer was a dream come true.
OTC trading at the time was truly inefficient and primitive. Four physical phone calls were required to establish "best price" and execute. Relationships were critical in achieving success. Kidder's OTC efforts were somewhat unique in that we had departments in nine locations, headquartered in New York.
What were highlights of your time at Kidder, Peabody?
The life of a trader at that time was one of short stints, firm mergers and name changes. I alway felt Kidder to be a special place and it was my good fortune to spend 23 years without a name change. Kidder was a gem.
In 1983 I was invited to move to New York to co-manage Kidder's NASDAQ Trading. Throughout this period OTC trading evolved to NASDAQ trading. The transition from a manual marketplace to electric was very interesting. I was able to represent Kidder as the SEC and NASD dealt with challenges; perhaps the most significant was the era of SOES (small order execution system). SOES was designed to provide retail customers certainty of execution by allowing electronic access to market maker quotes. This "access" bred what became known as SOES "bandits" where creative programming allowed for circumvention of the intended purpose of SOES. This represented the beginning of what the market has evolved to today: algorithms!
How did you come to lead STA, and how did you move that organization forward in your 10 years there?
The Security Traders Association has been part of my life since 1967. I belonged to the Portland affiliate then, and moved to the San Francisco affiliate with Kidder. I found the STA involvement beneficial professionally and personally. Involvement allowed me to be current on market issues which helped me to be more effective in my profession.
I was the president of San Francisco STA, then president of New York STA, and I was chairman of the STA before becoming president and CEO. I have a dear affection for STA and its mission. STA historically was known as a trading organization, but one that was focused more on the social side of the business. My primary focus as CEO was to evolve the STA into more of a serious business professional organization. We worked very hard to establish our identity in Washington during my tenure.
The other part of STA that we worked hard on is the relationship between the national and its affiliates. The affiliates are great because they're in the local communities, whether it's LA or Boston or Philadelphia or wherever, but within each community, the STA affiliates were important within their communities. Two of the characteristics that I would say are really at the heart of STA are, one, it's a very patriotic group of people, and two, it's a very generous and charitable group of people. Many of the affiliates have done really amazing things within their affiliate to be supportive of local issues and/or individuals who have run into problems.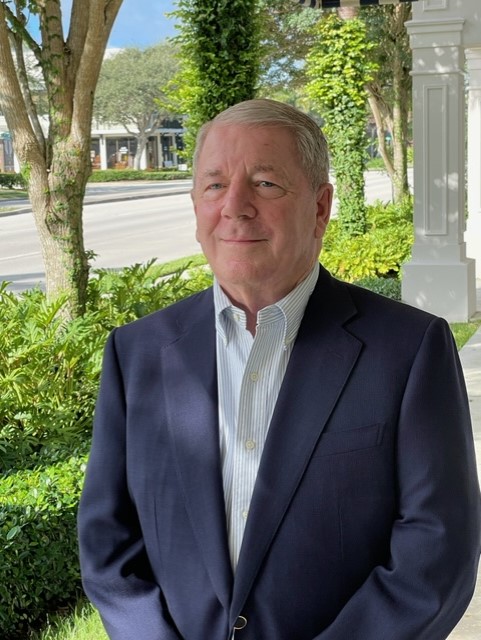 What are your thoughts on the business today?
I'm no longer active in the STA, but I pay attention to what's going on. All through my years in the business, I was pretty involved in industry matters, because there were a lot of market structure issues that came up. It was a very interesting time to be involved and very helpful to the NASD, the SEC, and so on to improve the market over time. What are the issues today? Well, there's an interesting knack for industry issues to reoccur. For example, the short sale plus tick, was a big deal, and automated executions are very important. The technological aspects of the market have become much more complex, but there is the same desire for greater transparency.