FLASH FRIDAY is a weekly content series looking at the past, present and future of capital markets trading and technology. FLASH FRIDAY is sponsored by Instinet, a Nomura company.
Bernard Madoff, perhaps the most notorious financial criminal in U.S. history, died earlier this week in U.S. federal prison at age 82. Madoff was founder of an eponymous institutional broker dealer before being revealed as the operator of the largest financial fraud in history, which bilked investors out of as much as $65 billion.
One reason Madoff got away with what he did for so long was that he hid in plain sight. In addition to leading Bernard L. Madoff Investment Securities, which was once the sixth-largest broker-dealer on Wall Street, Madoff was non-executive chairman of the National Association of Securities Dealers (NASD), and he spoke at industry events and to the media about the issues of the day, including — quite ironically — market regulation.
An observer might think, how could a guy who's open like this be an evil Ponzi schemer? Isn't that stuff done in the shadows by people you never hear of until it comes to light? Bernie flipped the script on that premise, just like years later when drug kingpin Gustavo Fring hid in plain sight at Los Pollos Hermanos chicken joint on the hit television series Breaking Bad.
Traders Magazine was one of many media outlets fooled by Madoff, as he appeared in its pages multiple times, as an up-and-up guy.
There were photo spreads of Bernard L Madoff Investment Securities client parties — which, sadly, were presumably funded by stolen money.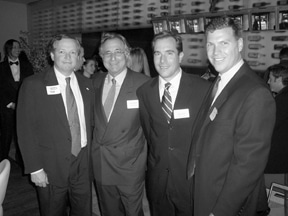 There were advertisements for the broker-dealer firm, touting its "fully automated, state of the art order handling systems." This from 2000: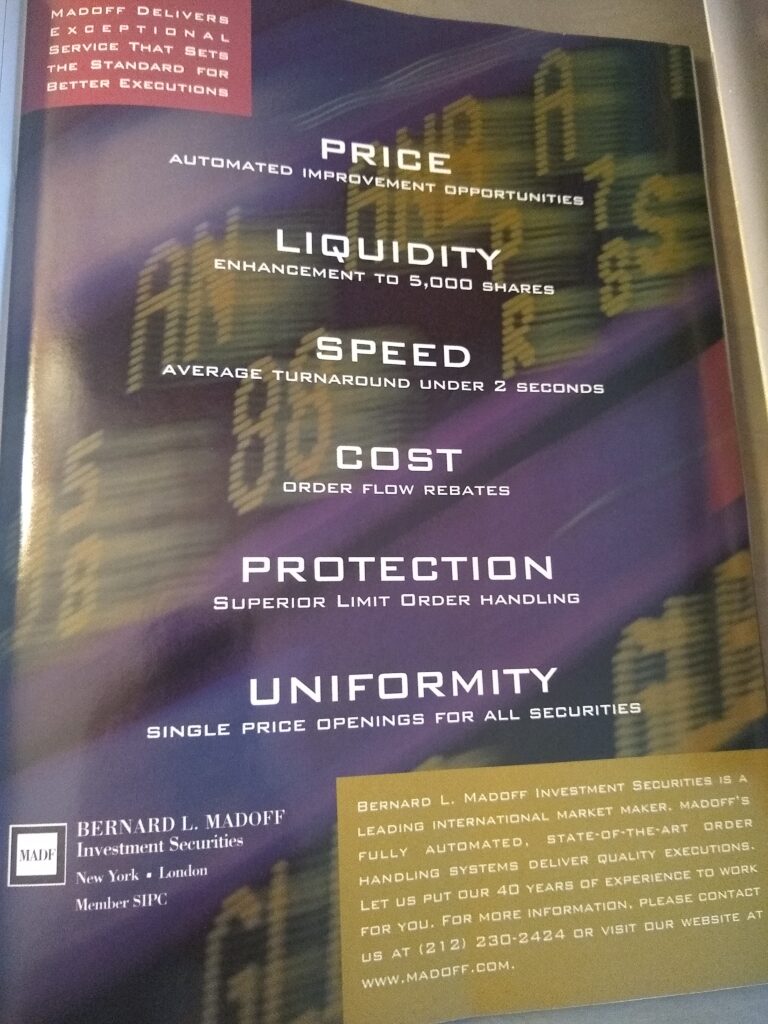 And there was Bernie in editorial content, such as the 1998 article "Another Stab at the Third Market: Madoff's Brave New Trading World."
From the article:
"Electronic trading systems have not always been viewed as a market maker's best friend. That could change next year, though, when a pioneer of the third market, Bernard L. Madoff Investment Securities, launches Primex Trading NA.
The new electronic trading system is billed as a superior version of the floor of the New York Stock Exchange – a system that could help the firm maintain its crucial inflow of retail orders.
Madoff, long a competitor of the Big Board, is in essence conceding the superiority of the exchange's auction model to achieve price improvement for the firm's retail customers' listed and Nasdaq orders. "This new trading platform is an improvement over our existing system," said Bernard Madoff, a principal at the firm."
That was Bernie — distracting with market structure logistics on one hand while working a massive financial fraud with the other hand.
If only he had focused on legitimate business.