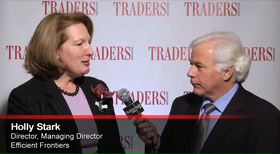 In this Traders Magazine video interview, Holly A. Stark, Managing Member of Efficient Frontiers, talks about starting her business, discusses the challenges she faces, and explains why no one should be afraid to try something new.
Stark is a recipient of a 'Wall Street Women 2012: Entrepreneur of the Year' award, presented by Traders Magazine.
Click here to watch the interview, conducted January 15, 2013, at the Waldorf-Astoria Hotel, in New York City.