Adena Friedman was elected to the Vanderbilt University Board of Trustees.
In its April 16th meeting, the school elected three new senior members at its April 16 meeting, including the Nasdaq chieftain who received an MBA from the institution in 1993. Cindy Kent, MBA'99 and MDiv'01, will serve a five-year terms. The board also elected Daniel Lovinger, BA'87, to a two-year term as alumni trustee.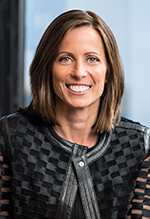 "I want to warmly welcome our new board members, who share our commitment and passion for elevating Vanderbilt's role as one of the world's top-tier universities for scholarly research, creative teaching and service to society," said Bruce R. Evans, BE'81, chairman of the Board of Trust. "It will be wonderful to see the impact of their diverse talents and resources on Vanderbilt's bright future."
Friedman is the president and CEO of Nasdaq. She has played a prominent role in shaping Nasdaq's strategic transformation into a leading global exchange and technology solutions company with operations on six continents. She first joined Nasdaq in 1993, the same year she earned her MBA from the Owen Graduate School of Management. Friedman became a key member of Nasdaq's management team, serving in a variety of roles that included head of the company's data products business, head of corporate strategy and chief financial officer. She was instrumental in the company's acquisition strategy, overseeing the acquisitions of INET, OMX, and the Philadelphia and Boston exchanges.
"One of the many reasons for Adena's extraordinary career success has been her ability to think strategically about the future of finance in an increasingly global economy," Evans said in a release. "I am delighted that she will bring her breadth of expertise and leadership skills to our board."
Friedman stepped away from Nasdaq in 2011 to become chief financial officer and managing director of The Carlyle Group, playing a major role in taking the company public in 2012. Rejoining Nasdaq in 2014, she has been outspoken on the topic of women in leadership and is an avid supporter of mentoring and career opportunities for women in the financial services industry. She is also an advocate for supporting youth on their journey to financial independence. Friedman, the 2017 Commencement speaker for Owen, has been serving as a community member of the Board of Trust's Investment Committee.
She earned a Bachelor of Arts from Williams College.