KCG hired Michael Cahill as its new head of FX relationship management. A 10 year veteran, Cahill will be responsible for leading the firm's efforts in expanding its FX client footprint and will be a part of its principal FX market making team. He came from Nomura Securities where was the head of FX electronic distribution for the Americas. At Nomura he managed and grew the eFX client franchise and worked to develop its business strategy. Prior to Nomura Securities, Cahill spent seven years at Morgan Stanley, most recently serving as Vice President in foreign exchange sales.
---
If you've gotten a new job or promotion, let us know at onthemove@sourcemedia.com
---
Leor Shapiro has joined Jefferies as a managing director and global head of business consulting for the firm's Global Prime Services unit. In this new role, the 12 year veteran Shapiro will work closely with Jefferies' sales and capital introduction teams to advise and assist startup and existing managers with fund launches and expansion. Previously, Shapiro was U.S. head of business consulting Services at UBS. He will report to John Laub, Global co-Head of Prime Brokerage at Jefferies.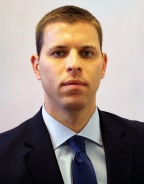 Mike Beaver has joined Lime Brokerage as its director of business development. A 20 year professional, Beaver will be responsible for working with both new and existing quantitative and institutional clients. Prior to Lime, he worked as a managing director on NASDAQ's Transaction Services team, as a director of sales at Trillium and as a market maker/equity trader at several broker dealers. He reports to Johan Sandblom, head of business development at Lime.
Maria Gattuso and Susan Ameel joined Deloitte's Risk and Regulatory Advisory Practice. Maria Gattuso, investment management attorney and most recently a partner at Wilkie Farr & Gallagher LLP, joins as principal; and Susan Ameel, former chief regulatory officer of the National Stock Exchange (NSX), joins as director.
Gattuso, with over 20 years of experience, will focus on regulatory and compliance matters for Deloitte's investment management clients including investment advisers, wealth managers, mutual fund complexes, hedge funds and private equity funds. Prior to joining Deloitte, Gattuso was a partner for nearly nine years at Willkie Farr & Gallagher LLP and has served as an adjunct professor of law at Georgetown University Law Center.
Ameel, 15 year market pro, will focus on regulatory risk management, regulatory compliance, trading, and systems compliance. Prior, she was the chief regulatory officer of the National Stock Exchange and responsible for the exchange's regulatory program including compliance, rulemaking, surveillance, investigations, examinations and enforcement.