John Cryan, a Deutsche Bank supervisory board member since 2013, was named the next chief executive officer in a surprise announcement. He'll replace co-CEO Anshu Jain at the end of the month and become sole CEO when Juergen Fitschen steps down next May. The shakeup is the latest to sweep aside top management at one of Europe's largest banks as firms grapple with stricter regulatory scrutiny and higher capital demands. Cryan will inherit a lender plagued by billions of euros in legal costs and questions about its revised strategy. Jain, 52, and Fitschen, 66, missed profit targets and presided over a lagging share performance.
---
If you've gotten a new job or promotion, let us know at onthemove@sourcemedia.com
---
Jim Gibbons has joined KCG's electronic trading team as a sales trader covering southeast and southwest accounts. A veteran with 20 years of experience, Gibbons will be working closely with our algo clients, providing intra-day coverage and advice on strategy selection, performance and customizations. Before KCG, he was an electronic sales trader at Jefferies. He will be based in Jersey City and reports to Chris Amorello.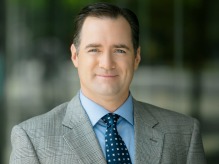 BTIG announced two senior hires within its Fixed Income, Currency and Commodities (FICC) division – Holly Liss, CMT, and Philip Ruffat have joined BTIG's Futures and Commodities Group as Managing Directors. Both will be based in Chicago.
Liss, with more than 25 years of financial services experience, was most recently as a Director of FICC at Macquarie Futures USA. Prior to Macquarie, she served in senior sales roles at ABN AMRO, Citigroup Global Markets as well as several other futures commission merchants. She began her career as an analyst with the Chief Money Market Economist at First Chicago Futures.
Ruffat, a professional with 20 years of industry experience, spent the bulk of his career as a director at Citigroup Global Markets, and most recently serving as a Director of FICC at Macquarie Futures USA. He also held senior sales roles at ABN AMRO and Mizuho Securities USA. Ruffat started his career at Kemper Securities in emerging markets fixed income trading.
Wells Fargo has continued its expansion of its prime brokerage business hiring Eamon McCooey, formerly the head of U.S. prime brokerage at Deutsche Bank, to head its prime services group. A 20 year pro, McCooey spent his almost his entire career at Deutsche Bank. He spent his first 5 years at CIBC as an executive director.
NYSE star Stacey Cunningham was promoted to the position of chief operating officer. Cunningham, a 17 year veteran, was most recently head of sales & relationship management for NYSE Group. In the new role, Cunningham manages the following NYSE Group units, with a focus on a customer-led approach to strategy and development. In her expanded role, Cunningham will oversee several NYSE Group initiatives. These include the rollout of Pillar, an integrated trading technology platform that will enable customers to connect to all of NYSE Group's equities and options markets using a single specification. In addition, she will advance the introduction of the NYSE Midday Auction, providing market participants with the opportunity to aggregate trading interest in lower volume securities in the middle of the trading day, complementing the opening and closing auctions.
Before NYSE, she was the head of U.S. equities sales at Nasdaq OMX Group's trading business. She reports to NYSE Group President Tom Farley.
CAPIS promoted David Choate to director of global sales and will be responsible for managing the global sales team. A veteran with nearly 30 years of experience, all at CAPIS, Choate has been directly responsible for marketing the CAPIS global trading platform to investment managers and fund sponsors in North America. In his new role, he will be responsible for leading the global sales force in providing trading and commission management solutions to institutional investors, as well as expanding the sales team.
The London Stock Exchange has elected Mary Schapiro, the former chair of the Securities and Exchange Commission, as a non-executive director beginning July 1. Schapiro is also a Washington D.C.-based consultant for the Promontory Financial Group since 2013. Promontory specializes in solving regulatory, risk, compliance and governance issues for investment firms. She served as SEC chairman from 2009 to 2012. She was the first woman to serve as SEC chairman and the only person to have served as chairman of both the SEC and the Commodity Futures Trading Commission.