They both draw a crowd of local bettors. They're both quasi public service operations. And they've both needed a helping hand at one time or the other.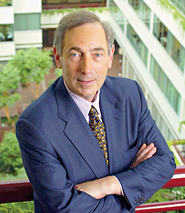 The Philadelphia Stock Exchange and New York State's Off-Track Betting (OTB) operation share a lot in common. Now they both have the distinction of having been run by Meyer "Sandy" Frucher. The long-time head of one of the country's largest options exchanges is now running a flailing OTB. Like the Philly, the 40-year old OTB now needs a helping hand. It is running out of money and could close its doors as early as this month.
The problems facing the Philly in 1998 when Frucher took the helm were not so dire, but the exchange was lagging behind competitors technologically and suffering reduced trading volumes.
From 1998 until 2008, Frucher oversaw the conversion of the floor-based exchange into a profitable electronically driven marketplace. The result was the sale of PHLX to Nasdaq OMX for $690 million in July 2008.
While he is still nominally employed by Nasdaq OMX as vice chairman, he was recruited to OTB as chief executive officer last September–and now he has less than a month left to save it.
His current turnaround is far more complex and involves changing OTB's charter via legislation, an underwriting and concessions from unions.
Frucher said OTB's future rests in changing its mandated revenue payout system–moving OTB first in the payment stream and paying out based on net revenue, not the gross amount, or what bettors wager. A bill is in the process of being introduced to the New York Legislature requesting a change in the payment scheme, as well as other changes to state racing laws.
If the legislature doesn't act quickly, OTB–which, according to Frucher, has $95 million in outstanding debt–will close its doors by the end of March.
In 2008, OTB took in almost $1 billion in gross wagers in 2008, but after gamblers collected their winnings, only $245 million remained. Then it paid out another $129 million before receiving any money itself–leaving OTB with $116 million to cover $134 million in operating expenses, or a loss of $18 million.
"You can't get anywhere without changing this structural payment system and moving to net from gross," Frucher said. If the revenue stream is not changed, then a turnaround likely will be impossible.
And the stakes are high. Shutting down OTB, which has provided $4 billion in revenues to the state over its lifetime, would cost upward of $700 million dollars and result in 35,000 to 70,000 jobs lost.
The same way he brought technology into PHLX and opened up the marketplace to a whole new group of traders, Frucher thinks technology can introduce a whole new generation of clients to OTB.
But he doesn't expect new technology to be readily accepted. He experienced a similar experience with floor traders, who initially rejected electronic trading. At OTB, Frucher expects resistance from the racing industry, customers, unions and state and city government.
Once all parties come to an agreement and legislation is passed, OTB plans to issue $250 million in floating rate notes and avoid asking the public for money.
At PHLX, Frucher similarly tapped Wall Street firms to become investors in the exchange.
"It's impossible or unethical to ask the state to pony up the money to do this at a time of state budget cuts. OTB's remodeling must be self-financed," Frucher said. "And you can't ask an investor to invest unless their money is in first position to be repaid."
The bond offering will be overseen by Bret Engelkemier, a friend of Frucher's and formerly Citigroup's global head of systematic trading, Now an independent consultant, Engelkemier said proceeds will finance OTB for at least three years, finance five super entertainment centers, place new ATM wagering machines around New York and increase its online presence.
"We want to present the beautiful parts of sport-the majesty of the animals," said Frucher. "At the end of the day, this is about jobs and closing OTB would be a losing trade."
(c) 2010 Traders Magazine and SourceMedia, Inc. All Rights Reserved.
http://www.tradersmagazine.com http://www.sourcemedia.com/