U.S options trading is on fire.
Traders executing options trades in July were up 13% from June and nearly double (up 25%) since May, according to a report from Tabb Group. The consultancy, in its monthly Options LiquidityMatrix, also noted July's volume was the highest this year so far.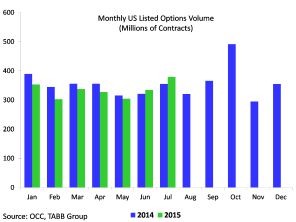 "July officially sets a new record for highest monthly options volume in 2015, and is the highest reading since the turbulent October 2014," said Luther Zhao, an anlayst at Tabb. He added that the market is recovering from a slow first quarter in 2015 where volumes were down 9% year-over-year, the US options market pared back some losses in the second quarter.
For July, U.S. listed options volumes came in at 379.2 million contracts compared to last month's 334.5 million contracts and May's 304.1 million contracts.
The report also noted that global crises such as the Greek financial implosion and China's stock market turmoil raised uncertainty and clearly contributed to the increased options activity.
However, Zhao says, "A subtle yet sizeable factor was the NFLX stock split that came into effect in July. NFLX options volumes nearly doubled from 4.8 million in June to 9.2 million in July."
The Options LiquidityMatrix is available in its entirety here.
Total volume in the first half of 2015 came in at 1.96 billion contracts, says Zhao, a decline of 6% below volume in the comparable period in 2014.
There was considerable volume growth in options with weekly expirations. However, he points out, The gains were not enough to offset weakness in the volume of trading in options with regular expirations.
Short-term options (STOs) expirations traded 548 million contracts in H1 2015, 10% higher than H1 2014s 499.5 million. Short-term expirations accounted for 28% of total volume in H1 2015, compared to 24% in H1 2014.