February options trading activity dropped to 302.5 million shares after a strong start in January.
According to Tabb Group, U.S. listed options volumes were around 355 million contracts in January. A drop in volatility was most likely to blame.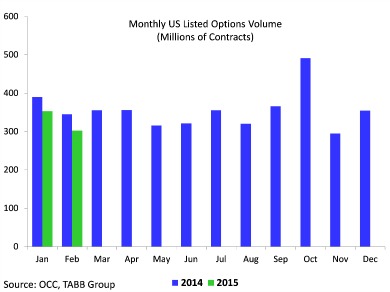 Publishing its latest Options LiquidityMatrix, Tabb Group said U.S. listed options volumes were down 12 percent in February 2015 compared to last February when 344.9 million contracts traded. However, despite a slow February this year, BATS Global Markets and MIAX have made significant gains in market share year-over-year.
According to Tabb's Luther Zhao, BATS volume grew 103 percent to 24.8 million contracts, representing a market share of 8.2 percent for February. MIAX volume grew 86 percent to 15.1 million contracts, reaching a 5 percent market share for February.
Total volume year-to-date measured 655.8 million contracts, 11 percent lower on a year-over-year basis.