Traders disagree over whether MiFID II has been successful, according to new research by SIX.
70% of traders think MiFID II has made trading more transparent
But just one-in-four think dark liquidity will move to lit markets
86% of traders see reporting as the biggest concern post MiFID II rollout
Paradoxically, only 26% believe that dark liquidity will shift to lit markets, highlighting the failure of a key aspect of the regulation. Traders indicate that they are also divided as to where dark liquidity on capped stocks will shift instead of lit markets, with a relatively even spread between:
Block Trading / LIS dark pools: 31%
Systematic Internalisers: 23%
Periodic auctions: 20%
According to Tony Shaw, Director London Office, Securities & Exchanges, SIX, This variance in responses highlights the reigning uncertainty among traders. Over time, market developments will provide more conclusive answers on the success of MiFID II.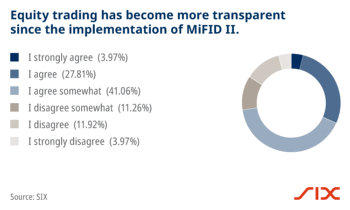 Reporting preoccupies the vast majority of traders as 86% of the respondents cited transaction reporting (50%) and best execution reporting (36%) as causing the most concern under MiFID II.
Although MiFID II and regulation remain a concern, it is no longer the single biggest challenge facing traders, with the picture now far more mixed. Those citing regulation such as MiFID II as the biggest risk in 2018 fell to 46%, compared with 73% in 2017.
The research also revealed that an overwhelming 87% of traders believe that the increased levels of volatility we saw in Q1 2018 is a trend that will continue. Interestingly, three quarters of traders stated that ETFs have contributed to this rise in volatility.
Commenting on the findings of the survey, Shaw added: Despite the optimism of some traders, there is no consensus on whether MiFID II can be deemed a success. Our research demonstrates a large difference of opinion among market participants.
The survey also highlighted that traders are much more positive about growth prospects for their own industry, with nearly two-thirds (62%) expecting more growth within their companies in the future, compared to a mere 15% one year ago.
SIX has conducted a trader survey between 12 and 30 April 2018, with 174 respondents from across Europe, of which 53% traded in shares, 19% in Fixed Income, 14% in Structured products and 13% in ETFs/ETPs or other products. Previous surveys conducted in 2017 have focused on block trading and passive investing.