Barclays has hired Stephen Dainton, a former Credit Suisse executive, to be global head of equities. In his new role at Barclays, he will be based in London and report directly to Tim Throsby, the head of Barclays' corporate and investment bank. Throsby, who joined Barclays in January, was previously global head of equities at JPMorgan. Dainton left Credit Suisse earlier this year, having previously run Credit Suisse's equities business in Europe and later co-headed the Swiss bank's markets business in the region.
Also joining Barclays is Nick Doddy. Doddy was previously Deutsche Banks European lead for innovation initiatives, such as thumbprint technology and facial recognition. Doddy will be a Managing Director at Barclays in its business architecture division.
If you have a new job or promotion to report, let me know at jdantona@marketsmedia.com
TMXannounced changes to Executive Committee, including former President and CEO of Global Enterprise Services, Jean Desgagn as President and CEO, TMX Global Solutions, Insights and Analytics Strategies, and John McKenzie as CFO and responsibility for TMX Group's finance function.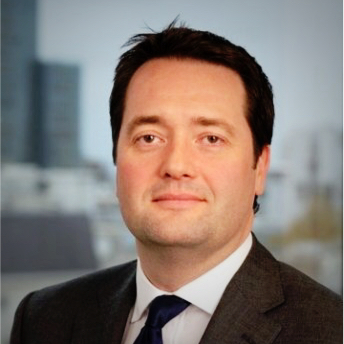 Sales trader Michael McDonald has joined Olivetree as an Executive Director and will be based in the firms new Boston Office. He will be responsible for sales trading coverage of both hedge funds and long-onlys in Boston and Connecticut. McDonald comes from Convergex where he lead their Boston team and prior to that held a similar senior role with Canaccord Genuity.
American Century Investments has hired Tsuyoshi Yoshi Ozaki, PhD into a portfolio manager role, within its Disciplined Equity group. He reports to Vice President and Portfolio Manager Yulin Long and is co-managing three fund strategies.
Execution broker BTIG has hired Romeo Reyes and Piyush Phadke. Both will focus on originating, structuring and executing bond financings for corporate and financial sponsor clients as part of the firms Debt Capital Markets business, and Daniel Nolan will continue the expansion of BTIG Fixed Income Credit and lead the Distressed-Debt Trading desk. All come from Jefferies.
Reyes, a 25-year veteran, joins as a Managing Director. Prior to BTIG, Reyes was Americas Head of Communications, Cable and Satellites Investment Banking at Jefferies, where he was previously Director of Global Leveraged Finance Research. Earlier in his career, he was an Executive Director and Senior High-Yield Analyst at UBS. Reyes held similar roles at Merrill Lynch and Goldman Sachs.
Phadke joins as a Director. Prior to BTIG, he was a Senior Vice President within the Financial Sponsors division at Jefferies. Earlier in his career, Phadke held a similar role at Bank of America Merrill Lynch, where he executed transactions for private equity backed companies.
Nolan also joins as a Director.Before this he was a Senior Vice President within Distressed-Debt Trading at Jefferies, where he was previously a Vice President, focused on event-driven and institutional equity trading.Nolan began his career as an Analyst on the Structured Credit Desk at Citigroup.
The Municipal Securities Rulemaking Board (MSRB) announced new officers and members of its Board of Directors who will begin their terms on October 1, 2017. Lucy Hooper, Executive Vice President at Davenport & Company LLC, will serve as Chair of the Board. Arthur Miller, Managing Director, Goldman, Sachs & Co., will serve his second term as Vice Chair.
Other new members joining the Board for four-year terms beginning October 1, are William Fitzgerald, Founder, Fitzgerald Asset Management, LLC; Manju Ganeriwala, Treasurer, Commonwealth of Virginia; Seema Mohanty, Founder and Managing Director, Mohanty Gargiulo; Donna Simonetti, former executive director at JP Morgan; and Beth Wolchock, Managing Director, Oppenheimer & Co. Inc.
The MSRB also announced that Board memberGary Hall, whose term was set to expire September 30, 2017, will serve an additional two years on the Board to complete the term of Pat Sweeney, who recently resigned from the Board due to a job change.
Other Board members are J. Anthony Beard, Renee Boicourt, Robert Clarke Brown, Julia Harper Cooper, Ron Dieckman, Richard Ellis, Jerry W. Ford, Richard Froehlich, Lakshmi Kommi, Kemp J. Lewis, Chris Ryon, Edward J. Sisk and Dale Turnipseed.
D.A. Davidson & Co. announced that municipal investment banking veteran Peter Raphael has joined the firms public finance team in Chicago as Senior Vice President, Managing Director. In this role, Raphael will work with municipalities, issuers and developers to structure bond issues. He has deep experience with multi-family housing bonds, special service area and special assessment financings, and sales tax revenue bonds. Previously, he was head of municipal structured finance with William Blair.
Jonathan Yalmokas, a top executive specializing in hedge fund services, has decided not to join RBC Capital Markets. Instead, he will go to Cantor Fitzgerald. In June, Yalmokas resigned as Americas Head of Prime Brokerage at Bank of America Merrill Lynch and was expected to begin at RBC in September.
Kirsten Wegner was named as CEO of Modern Markets Initiative. Wegner, who currently serves as Senior Vice President of Business Development of MMI, succeedsBill Harts, who informed the Board of his intention to step away from day-to-day responsibilities leading the organization to pursue other professional opportunities.In her new position as CEO, Wegner will continue to focus on policy and educational outreach to regulators, lawmakers, investors and a range of market participants. Before MMI, she was a director of government relations for the International Securities Exchange where she created bipartisan outreach and advocacy strategy on financial services and tax matters impacting exchanges and retail investors.Harts, who has led MMI for the past three years, will become a Senior Advisor to the organization.