By Adena Friedman, President and CEO, Nasdaq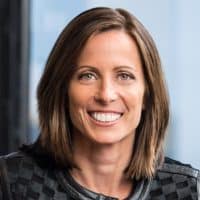 This past Friday morning, I asked the entire global Nasdaq team of more than 4,000 people to join me on a call to discuss this unprecedented moment we're facing. None of us can predict with certainty how the coming days and weeks will play out, but I wanted our team to know that no matter what, we're in this together.
As I thought through what I wanted to say to the team, I kept coming back to the idea of connection. Even as we face the prospect of working from home and "social distancing," in many ways our world has never been more closely connected. Technology is instantaneously fueling these connections, with access to news, markets, and people like never before.
For our part, we're pleased that even during one of the most volatile markets periods in history, the Nasdaq exchange (and the 120 other markets around the world that our technology powers) have performed as expected and helped markets everywhere deal with the volatility. That's not to say that operating at these levels is without its challenges, and they are likely to persist as uncertainty remains. But thanks to years of meticulous capacity planning, coupled with our amazing engineering talent and deep client relationships, we are well prepared to handle the huge spikes in message traffic and volume that we have experienced. These past few weeks in the U.S., we have repeatedly reached peaks of more than 60 billion messages each day – that's more than twice any previous record.
But connections go deeper than technology. The coronavirus pandemic reminds us that for all our perceived differences, the things that matter most are universal: taking care of all the people who make our lives rich and meaningful.
I've been focused first and foremost on the safety and well-being of the Nasdaq family, as well as the broader needs of the Nasdaq community, including all those who are listed on our exchanges, transact on our exchanges, and rely on our technologies. We've established a variety of policies since March 7 aimed at keeping our team safe, including a new plan for our global staff to operate across a combination of work-from-home, split teams, and rotating staff schedules. And we've developed this plan to put the safety of the Nasdaq team first while ensuring that our markets, and all the other ways we serve our clients, are fully operational.
Times of stress and uncertainty test us, and I'm so proud to see the Nasdaq team rise to the occasion. We're looking out for each other, we're staying focused, and we're continuing to get the job done for all those who rely on us. Nasdaq was founded on the idea that people don't need to be in the same physical place to be part of the same community. This founding principle continues to drive us as we face the unexpected.