In light of today's announcement that the New York Stock Exchange will close its vaunted 80 Broad Steet trading floor effective March 23 and go to fully electronic trading, Nasdaq reiterated its position on its Philadelphia trading floor closure and that all its electronic equities, options, and fixed income markets remain fully operational.
According to a spokesperson and previous announcement, new listings and Initial Public Offerings continue as scheduled.
"In consultation with industry stakeholders, and following guidelines from the World Health Organization (WHO) and the Centers for Disease Control and Prevention (CDC) concerning the elevated risks associated with COVID-19 coronavirus, Nasdaq's North American staff have been operating across a combination of work-from-home, split teams, and rotating staff schedules since March 9; this remains in effect until further notice. These measures will ensure consistency of Nasdaq's operations as we continue to serve our client's unique needs.
We understand the vital role the U.S. markets play in the global economy, as well as the importance of the safety and security of our employees, clients and visitors," said Tal Cohen, Executive Vice President and Head of North American Market Services, Nasdaq. "For the safety of all market participants, Nasdaq has proactively actioned its business continuity plans and remains committed to maintaining resilient, dynamic markets. We remain in close dialogue with clients, employees, health officials, industry partners, and regulators and will revise our plans accordingly."
Additional updates to Nasdaq's North American Operations include:
All electronic Nasdaq-operated equities, options, and fixed income markets will remain in operation during this period, with only critical operational personnel on-site working in either split teams or rotating staff schedules
The Nasdaq PHLX Options Market trading floor in Philadelphia will temporarily close on Tuesday, March 17, until further notice; all options trading will transition to an electronic-only environment
Initial public offerings (IPOs) and our first trade operations can continue as scheduled during this period, through Nasdaq's proprietary listing technology – Bookviewer
The Nasdaq MarketSite and Client Experience Center in Times Square will remain in operation with reduced staffing and attendees to facilitate the Nasdaq Opening and Closing Bell ceremonies; new listings; and, IPO first trade operations; as well as global broadcast operations. All client events have been cancelled and general public access is restricted until further notice.
Earlier today, the NYSE announced it was closing its trading floor and go electronic as of March 23rd after employees tested positive for COVID 19.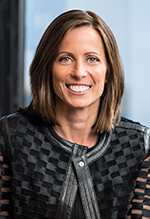 On Monday, Nasdaq President and Chief Executive Officer Adena Friedman explained why Nasdaq believes it is best to keep the markets open during the coronavirus pandemic, providing companies with access to capital on a ready basis.
"It is critically important that the markets stay open in this time as opposed to trying to take breaks in the middle. I think that will just push off the situation a little bit and could create pent-up issues if you do close the markets," Friedman said during an interview on Bloomberg TV. "Our view is that it's much better to keep them open."
Nasdaq maintains that it is ready to operate markets remotely, Friedman said in a separate interview on CNBC. Over the past few weeks, the technology company has been instituting split and rotating teams, as well as encouraging employees to work from home.
"For market operations, we have a split-teams environment. They can operate the markets remotely, but right now, we are still operating in a split-team environment, with certain people coming into the office, and certain people working from home," said Friedman.
Friedman noted that even amid a challenging market environment, a small healthcare company went public last Thursday, signaling the need companies still have to tap public markets.