Canadian regulators have peered across the border and don't like what they see. Canada's three main regulators- Canadian Securities Administrators-CSA-the Ontario Securities Regulator-OSC-and the Investment Industry Regulatory Organization of Canada-IIROC-are on the verge of jointly proposing updates to existing rules that would effectively nip in the bud U.S.-style dark pool trading. Behind the thinking is a long history of transparency in a marketplace which requires all trades to be taken to an exchange or otherwise "lit" market for a print.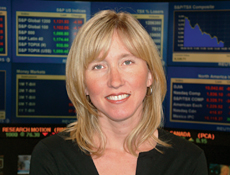 "In examining the issues and the risks of the expansion of the use of dark orders, we are of the view that the need for providing some limits on their use is critical in maintaining the quality of the price discovery mechanism and addressing concerns regarding the impact of dark orders on the quality of the Canadian capital market," the regulators wrote in a joint summary.
In particular, these regulators are contemplating the imposition of a minimum trade size clause that would bar the placing of any order under 5000 shares in a dark pool. Orders smaller would automatically be routed to the exchanges.
The minimum size is a clarification of Rule NI 21-101 sections 7.1 (1) & (2) which state that a marketplace that displays orders of exchange-traded securities to a person or company shall provide accurate and timely information regarding orders for the exchange-traded securities displayed on the marketplace to an information processor as required by the information processor or, if there is no information processor, to an information vendor that meets the standards set by a regulation services provider.
Market sources said 5000 shares is the expected minimum size allotment, but nothing has been announced publicly by Canadian regulators. Currently, small orders may be crossed inside a brokerage house but must be taken to the public markets for the print.
The clarification to the rule is expected to pass, according to Alison Crosthwait, director of research at Instinet in Canada, despite mixed opinions on the matter. She said regulators value a transparent market above all else and a minimum size requirement is consistent with that thinking. Any revision would go into effect sometime in the second half of the year.
A minimum order size rule could stymie growth in the nascent dark pool space, especially for U.S.- based brokers that want to set up shop in Canada.
Such is the case for Credit Suisse, which has been considering launching a Canadian dark pool, according to Dmitri Galinov, head of liquidity strategy for the Advanced Execution Services group, operator of the Crossfinder dark pool.
"We have not finalized anything," Galinov said. "We will continue to monitor the regulatory landscape in Canada and revisit the idea of proceeding with a dark pool there after the final rule publishes from regulators and Credit Suisse has an opportunity to view it."
Tim Reilly, managing director in Citi's North American electronic execution business, told Traders Magazine the firm was also contemplating opening a crossing network in Canada. However, the firm has to work through the county's regulatory environment in order to do that.
"Yes. We are considering introducing a crossing network there, but nothing is imminent," said Reilly. "We're not talking about opening anything before the middle of the year."
According to one analyst, the future is not bright for dark pools. Renée Colyer , chief executive of Forefactor and former director of research at the Toronto Stock Exchange, said the exchanges or lit markets will be benefactors of the rule adjustment. She said that traders with orders smaller than the minimum will either be forced to trade at an exchange or not trade at all.
Dark pools are not big in Canada. There are only two in operation-both with U.S. origins-but there are some waiting in the wings from several bulge firms. Given the trend in Canada towards more use of algorithms, dark pools are seen as a natural development there.
Dark pool trading accounts for approximately 2.7 percent of the market average 634 million shares that trade per day in Canada, according to Forefactor. By comparison, 12 to 13 percent of total U.S. trading volume comes from dark pools and crossing networks, according to a recent dark pool survey compiled by Rosenblatt Securities.
The first Canadian dark pool is run by agency broker Investment Technology Group via its TriAct Canada MarketPlace subsidiary. According to ITG, it trades 1.5 percent of total daily volume. The other dark pool, Liquidnet Canada, specializes in providing block liquidity to the buyside. It sees less than 1 percent of total daily volume.
The decision to re-route an order based on a specific size criteria-and not chosen by the customer placing the order-is the most controversial, according to Doug Clark, managing director at ITG Canada.
"We, as a firm believe, that if a client wants to impose minimum sizes on their own orders, or place them in such a way that they interact with orders of minimum size, that's a far better solution than the regulators telling us what size orders can go into dark pools," Clark said.
The rule will not affect the upstairs trading market in Canada, which accounts for about 20 percent of daily volume. That's the playground ITG is in.
"The key to growth is the clarity of the regulation allowing portfolio managers to feel confident to trade in the dark," said Robert Young, executive at Liquidnet Canada.
(c) 2011 Traders Magazine and SourceMedia, Inc. All Rights Reserved.
http://www.tradersmagazine.com http://www.sourcemedia.com/