Last month, the prestigious Society of American Business Editors and Writers awarded Traders Magazine a 2009 prize for its reporting on the flash order controversy. That's quite an honor and puts this publication on a list alongside some of the nation's most prominent publications. The New York Times, for instance, won 13 awards. In our category of small magazines, the only other winners were Bloomberg Markets and CFO Magazine. Of course, flash orders became a national debate after our story was published last summer. Unfortunately, flash orders often got confused with high-frequency trading. But now that the flash-order topic has died, high-frequency trading is center stage. And, boy, are those lights bright.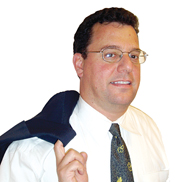 Sen. Ted Kaufman, D-Del., has been the leading voice for the SEC to take a hard look at high-frequency trading. He wants to know its impact on markets and investors. This issue has excerpts from Kaufman's sometimes fiery HFT speech on the Senate floor. But there are at least two sides to every issue. Opposite Kaufman's comments are those of Cameron Smith, a practitioner of high-frequency trading. The two pieces together offer some interesting and contrasting viewpoints. They also show Traders Magazine's desire to offer a balance of perspectives. Remaining objective in our coverage–trying to get the other side–is what drives us as a publication.
This month's cover story focuses on a type of high-frequency trader who anticipates orders and runs ahead of institutional orders. Reporter James Ramage conducted more than a dozen interviews for the story, representing a balance of institutional traders and high-frequency traders. "Both are really passionate," Ramage said. "Both have strong opinions on the issue." You can bet this story will not go away. High-frequency traders are a part of the SEC's Concept Release. And many of the issues surrounding these traders will be debated for months to come. The expression "speed kills" has never been more relevant than today for the buyside. One buysider with sellside experience explained that he is disadvantaged because his data feed is slower than the one HFTs have. "I'm dealing with a stale tape," he said. So, for example, if 20,000 shares are offered across all markets, that is not the real market, he said. For the same example, another buysider said that if he goes to sweep the 20,000 shares offered, he might get 1,500 shares and the stock is then offered up 2 cents. Answers will be forthcoming as you read more on this topic and thanks for your support. Enjoy the issue.
(c) 2010 Traders Magazine and SourceMedia, Inc. All Rights Reserved.
http://www.tradersmagazine.com http://www.sourcemedia.com/