Knight Capital's disastrous computer trading glitch, which destroyed millions of dollars in equity and put the firm on thin ice, came at the same time it was looking to expand its clearing business.
Knight CEO Thomas Joyce told analysts in late July that he was bullish on the firm's prospects to grow its fledging clearing operation.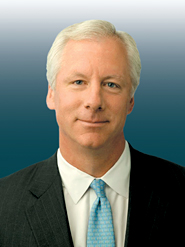 "We believe the correspondent clearing business, especially since it is now being able to handle clients across more asset classes, could be a pretty interesting thing to watch over the next few years," Joyce said.
Market maker Knight moved to self-clearing two years ago, but the firm said at the time it had no plans to clear for others. During the July earnings call, Knight first said publicly it would begin clearing for others and had already signed its first correspondent.
But about a week after that public comment, a computer program caused some $440 million in errant prop trades. Knight was stuck with almost all of these trades.
"In other cases," said one electronic trader who didn't want to be quoted by name, "if you're trading for a client, you make a mistake, you take the error. If the client makes the mistake, you do a negotiation. Here, there was no client. There's no negotiation. You can't give the position back to anyone."
Knight, at presstime, seemed to have survived by obtaining a $400 million credit line.
Yet several industry observers predicted that self-clearing Knight would put its new clearing business on hold.
"Did the clearing firm absorb the costs in executing the trades? Yes. And that will be part of the larger loss," said Matt Bienfang, a longtime clearing industry analyst with consultant Blue Metal Architects. He added that the transaction costs will be small in comparison with the capital costs of errant trades.
Just before the computer foul-up, Knight had announced in late July it was expanding its clearing operations.
"I'm sure it was part of their value proposition," Bienfang said. "It was that they (Knight) would clear for you and they would get you a lot better integration, and the client would also get more opportunities for internal order flow and natural fills."
Bienfang said Knight would continue to self-clear, but added that he "would be very surprised" if Knight goes ahead with plans to clear for others.
Knight, in the midst of a hectic week, declined comment.
(c) 2012 Traders Magazine and SourceMedia, Inc. All Rights Reserved.
http://www.tradersmagazine.com