The James River runs right past Rob Glownia's office, reminding the head trader for RiverFront Investment Group every morning that, like the river, trading is dynamic, whether the job is managing investors' daily cash flows or longer-term trading strategies.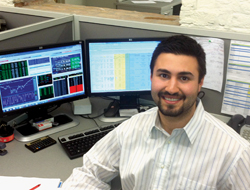 "Two of us work primarily on [portfolio] model changes daily and the third trader focuses on maintenance trading when retail investors want to either deposit or withdraw money," said Glownia. Between 50 and 100 account maintenance trades occur every day at RiverFront, which manages $3.2 billion, he added.
RiverFront partners with financial services firms and their advisors to offer separately managed accounts, unified managed accounts and sub-advised mutual funds. They also provide the indexes for two of Invesco's exchange-traded funds.
"We don't take any direct business from clients," Glownia said. "Rather, all of our assets are sent to us by financial advisors on behalf of their clients. We want to be a solutions provider."
At RiverFront, most of the trading is done high-touch – about 85 percent, according to Glownia – with the balance done via algorithms. The high percentage of high-touch trading is attributable to the fact that his firm uses ETFs to provide clients with exposure to the markets in several asset classes, not just stocks. According to Glownia, many of the ETFs they employ are less liquid than their underlying constituents. So instead of trading on the screens, they will either find a competitive risk market or trade over the day within the ETF basket to minimize trading costs.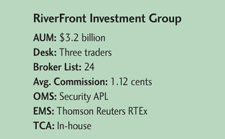 For stocks, Glownia uses algos provided by his brokers. But when it comes to fund redemptions or creations, a high-touch approach might still be needed. And that's OK for Glownia, an avid cook who literally gets his hands into the soup every weekend. He started his career with RiverFront, which traces its origins back to Wheat First Securities, in the 1990s; it was folded into Wachovia Securities' investment advice group in 2002. After arriving in 2008 from Allegheny College, Glownia joined as an intern and worked his way onto the trading desk doing any job possible – whether it was making photo copies or sorting mail.
Anything they needed done, they asked me," he remembered. "And when a position came up on the trading desk, I got it."
Glownia learned on the fly about trading, best execution and separate accounts. One of his biggest challenges was migrating the desk away from the traditional wrap account trade rotation.
"As we got bigger and bigger, my first project was to move away from the inefficiencies of the traditional wrap system," Glownia said. "Ninety-five percent of our model changes do not go through a trade rotation anymore. Now they are mostly block orders – where we combine all of the shares at various sponsor firms and run the trade ourselves."
(c) 2012 Traders Magazine and SourceMedia, Inc. All Rights Reserved.
http://www.tradersmagazine.com