An NYSE Euronext proposal to offer sub-penny trading at the New York Stock Exchange and NYSE Amex is unlikely to get the go-ahead from the Securities and Exchange Commission, according to a senior trading official.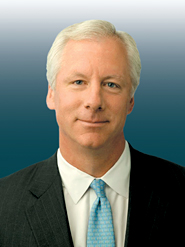 "Frankly, I don't see how the SEC can possibly okay it," Tom Joyce, chief executive of Knight Capital Group, said at an industry conference on Wednesday. "Fair competition amongst market participants would compel the agency to eventually allow sub-penny trading market wide. That would represent a wholesale shift in the current regulatory offering."
In October, the two NYSE Euronext exchanges asked the SEC for permission to set up a special program intended to make the NYSE a more competitive destination for retail orders. The service would compete with those of brokers that internalize retail orders, such as wholesalers like Knight. The NYSE is also positioning the service to attract flow from those internalizers.
Under the proposal, a special group of NYSE market makers to be called "Retail Liquidity Providers" would be allowed to quote between a stock's best bid and offer in increments of one-tenths of a cent. The quotes would be hidden from view and only accessible by providers of retail order flow.
The intent is to provide the retail customer with better pricing than is visible on exchange books. Such a price improvement service is now only provided by wholesalers and other brokers that internalize retail orders.
Under the plan, the exchanges would pay order senders and charge the liquidity providers. Only bona fide retail order senders would qualify for the service. The RLPs will come from the ranks of the exchanges' Designated Market Makers and Supplemental Liquidity Providers. (Knight is actually one of four DMMs.)
Currently, under the SEC's Regulation NMS, exchanges are barred from quoting in sub-pennies. NYSE and NYSE Amex are seeking exemptions to the rule, which does not apply to broker-dealers.
"The NYSE is basically asking for an exemption to Rule 612," Joyce told analysts and investors at the annual securities brokerage and market structure conference sponsored by Keefe, Bruyette & Woods.
"If approved the NYSE-and the NYSE alone-would be allowed to move the tick size from a penny to one-tenth of a penny. So instead of having 100 price points between one dollar and two dollars, there would be a thousand."
The NYSE declined to address Joyce's comments for this article.
Joyce is not the only executive of a wholesaler to view the NYSE's proposal with skepticism. Jeff Martin, president of ATD/Citi, found fault with the idea of letting a market maker's hidden order take precedence over a displayed quote.
"That means I no longer have to enforce Manning either," Martin told the NYSE at this year's Security Traders Association confab in Palm Beach. "[NYSE] has a resting order and allows someone to step inside for less than a penny."
Under the so-called Manning Rule, market makers like ATD can only trade ahead of their customers if the price they trade at is inferior to the one a customer might receive by at least a penny.
The NYSE proposal would allow the New York's RLPs to step in front of a posted customer order for only one-tenth of a cent.