Retired traders welcome afternoons filled with leisure, sunshine and golf after their hectic days on the desk are done. But for George Bodine, who retired from General Motors Asset Management in 2008, he chose politics and was involved in one of the tightest races in the recent mid-term elections for U.S. Congress.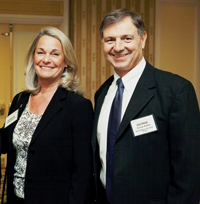 And a wild election it was, with Republicans gaining 63 seats in the U.S. House of Representatives and wresting control from the Democrats. Bodine's boss was among the winners that benefited from the backlash against Washington, D.C. and the economic policies of President Barack Obama's administration.
Bodine was a senior adviser to Ann Marie Buerkle, who won the 25th Congressional District in New York by a mere 561 votes–or three-tenths of 1 percent. The race was so close that it took three weeks for Buerkle, a conservative Republican, to be declared the winner. Her district encompasses Syracuse, N.Y., and three surrounding counties. The long-shot Buerkle defeated the Democratic incumbent Dan Maffei, whose war chest of campaign contributions was about four times the size of hers.
For Bodine, you might ask why politics, and why this race? He had a rooting interest: Before he retired from the GM trading desk, Bodine began dating Buerkle, a former high school classmate he met at a reunion in 2008. Since then, Bodine has split his time between working on the campaign and consulting to QSG, which offers pre- and post-trade analytical tools for investors.
"It was really rewarding to go in as an underdog, and to see more and more people signing on and buying into her message as the campaign progressed," Bodine said. "It is impossible to win an election without a team effort and everyone pulling in the same direction."
Buerkle was unavailable for comment, but a spokesman in an email told Traders Magazine that Bodine was involved in fundraising, signage and statistical analysis. "The countless hours he contributed were greatly appreciated," the spokesman wrote.
Mark Weiner, a political reporter who covered the campaign for The Post-Standard of Syracuse, said he saw Bodine at a number of functions, particularly the final week before ballots were cast on Nov. 2. "Every time I saw her in public, he was there," said Weiner, who works out of Arlington, Va. "Clearly, he held an important role."
From the start, political handicappers had considered the seat a "safe" one for the one-term incumbent Maffei, according to Weiner. And that appeared to be the case only weeks before Nov. 2. A Post-Standard/Siena Research Institute poll had Buerkle down by 12 percentage points three weeks before the election.
But Bodine said that the Buerkle camp thought the Post-Standard/Siena poll was inaccurate, as its own polling showed a much tighter race. That conclusion turned out to be correct.
On election night into the next morning, the Buerkle camp ended a gut-wrenching day thinking it had lost the election. The last holdouts were in Wayne County, where only two precincts had not reported their results, they were told. Buerkle was down by about 2,200 votes and it appeared that she had fought the good fight, but came up short.
Bodine, who was in charge of the statistical analysis for the campaign, thought that something was amiss: If the polls closed later this election because of a heavy turnout, how could there be fewer ballots cast in Wayne County than in 2008? The tally was just about 17,000 votes there, while the 2008 election showed about 30,000 votes cast.
"The next day we learned there had been an error and it was 27 precincts that had not reported their votes," said Bodine, adding that this was good news because the area leaned Republican.
Buerkle overcame that 2,200-vote deficit and went up by about 684 votes. But about 8,000 absentee ballots still had to be counted, Bodine explained. This was where his trader skills came in handy, he said. "It was very similar to doing a pre-trade analysis on a package trade," he said. Each registered voter has information about his party affiliation and district, so Bodine was about to project how each absentee voter cast his ballot. He then tallied his projections and felt confident that Buerkle would come out ahead. This was no different than figuring out how to treat a stock when creating a program, he added.
In retrospect, Bodine said his more than 30 years on the Street came in handy in many areas–from the people skills to the analysis of data. "A lot of unexpected things happened during the campaign that we had to react to very quickly and effectively–very similar to trading," said Bodine, pointing out that both campaigns and the trading day have time constraints and deadline pressures.
Ultimately, he said, that marketing a political candidate is very similar to an initial public offering. "You're bringing a person to market and are making people aware … it's very similar to a road show," Bodine said. "Her product was her–her beliefs and values, and they resonated with the electorate."