Mentor of the Year Award
Christine Sperry
Firm: CITIGROUP GLOBAL MARKETS
At Citi, youve got not just a co-worker or another senior executive in Christine Sperry, but an advocate as well.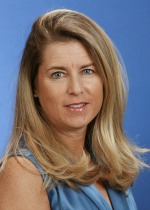 Sperry, a 19 year veteran of Citi Global Markets, got her start on Wall Street 30 years ago the old fashioned way, learning the trading ropes by working with other brokers, listening to the convertible bond traders at First Boston (now Credit Suisse) and learning all she could through observation. The debt instrument was new to the market, like her, and she began her career doing research and sales for the fledgling product.
I got my start on The Street thanks to a family friend whom I babysat for, she recalled. He was a floor broker, and that sparked my interest in finance.
See A Slideshow of All The Winners
After First Boston, Sperry moved to Lehman Brothers and entered its formal training program, adding to her knowledge of the capital markets and equity trading. From Lehman, she moved to Salomon Brothers until it was taken over by Citi in 1998.
This industry is always changing, and I can always learn something new, Sperry told Traders. And once she got to Citi, Sperry began to mentor women, and some men, as to how to get on the desk, stay on the desk and excel after time on the desk.
Over her career at Citi, she has been mentor and mentored. Sperry credits former senior Citi execs who always left the door open for her, and who would in turn advocate for both noticed and less visible employees. Sperry, like the execs before her, became an advocate herself for Citis unnoticed employees. She knows it takes more than just hard work to get noticed.
Sperry now spends her time mentoring both formally and informally at Citi by chairing several committees, including those charged with hiring. She coaches new applicants to help them get through the daunting interview process, and is also on the firms diversity committee. In addition, she informally mentors those outside Citi – both former employees and others.
People are your assets, Sperry said. No matter who you are, if you can take just 15 to 20 minutes a week and reach out to someone, it really can affect someone in a powerful and important way.