Today, we spolight the winners of our Entrepreneur of the Year award.
Entrepreneur of the Year is given to women who have pursued, and succeeded on, an entrepreneurial path in the financial markets.
Traders Magazine proudly salutes Dana Dakin, Founder, Dakin Partners LLC and Holly A. Stark, Managing Member, Efficient Frontiers LLC
---

Dana Dakin
Firm: Dakin Partners LLC
Years in the Business: 48 years
Previous Firms: Callan Associates
Status: Founder, Director
Don't tell Dana Dakin she can't do something. Because then the highly competitive entrepreneur will do it.
One challenger inadvertently helped her break the glass ceiling. Dakin was working in the 1970s as the first woman executive at Callan Associates. She was calculating time-weighted returns and managed staff. But she was told by a well-meaning boss to forget about becoming a consultant.
She said he told her: "Men would never listen to women's investment advice, so I would never be able to move into the consulting side of the business."
Dakin would ultimately start her own consulting firm. She credits her former boss – who she says is "a great guy, but old-school," with jump-starting her career.
"You betcha. He did me a big favor," Dakin said.
In 1976, she founded Dakin Partners, a marketing consulting practice geared to institutional investment management and trading firms. It began as a creative agency, focusing on packaging firms competing within the institutional arena. Today it is creating designs for big institutional brokerages on the buyside and sellside.
Dakin's efforts over the last nine years have led to other ventures. She is the founder of WomensTrust. It provides micro-lending programs to women in the town of Pokuase in Ghana. Dakin's WomensTrust responsibilities have included managing the nonprofit as a sustainable business, public relations and fundraising. "The WomensTrust model has been replicated by others," she noted.
What would she say to those who want to her follow her but run into naysayers?
"If you are blocked, go through a process where you use this barrier to get to know yourself better. Figure out your competitive advantages and line them up with your experience, and line it up with something you're passionate about. And don't let them stop you."
---
TM Entrepreneur of the Year Award
Holly Stark
Firm: Efficient Frontiers
Years in Industry: 34
Previous Firms: Kern Capital; Dalton, Greiner, Hartman, Maher & Co.; Dillon Read Capital Corp; Oppenheimer Capital Corp.
Status: Director, Managing Director
Try everything because every new skill or experience can be valuable. (more)
Such is the advice to young people starting out at Efficient Frontiers, said Holly Stark.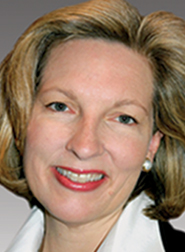 And sometimes, she added, success comes from the eagerness to try.
"It's a matter of being open to opportunities," she said. Stark says she wasn't afraid of trading, which led her to working on market structure and consulting at Efficient Frontiers.
Stark began as a marketing assistant at Oppenheimer Capital, preparing marketing materials and RFPs for potential clients. Writing about trading was part of the job, but she didn't intend to become a trader.
She followed a colleague to Dillon Read Capital. He was starting an investment management operation. Stark was presented with an opportunity: trading for a new money manager because she understood performance analysis.
"In my ignorance I said 'OK. I don't know anything about trading, but I'm willing to give it a try," she said. Stark's openness made a trading career. Her successes have included five years as director of trading and a principal at Kern Capital Management. Stark says those beginning in the business should try to do many things.
"One should simply jump in and work hard, and take advantage of the opportunity to learn," she said.
Dillon Read Capital became Dalton, Greiner, Hartman, Maher. As head trader and principal there in the late 1980s and 1990s, Stark immersed herself in market structure.
"I was fortunate enough to speak on many industry panels and testify before Congress on market structure issues," Stark said. "Through speaking, I met Benn Steil, who started Efficient Frontiers. He asked me to join. I decided it was a worthwhile career move."