Sanford Bernstein hired Alan Polo as a director on the firm's global electronic sales and trading team. Polo, a 20 year veteran, came from ITG where he spent the last six years and was most recently a managing director. He worked at Lehman from 2006 to 2008, building the firm's electronic trading business. Before that, he did an earlier three year stint at ITG. He reports to David Liles.
---
If you've gotten a new job or promotion, let us know at onthemove@sourcemedia.com
---
R.J. O'Brien, an independent futures brokerage and clearing firm based in the United States, announced the appointment of industry veteran Paul Goodhew as a senior vice president and head of global markets at its London-based affiliate. In this role, Goodhew, a 27 year veteran, will focus on expanding the operation's institutional commodity brokerage business, including energy, as well as fixed income, rates and equity derivatives.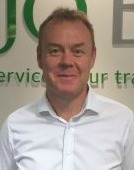 Goodhew has spent his entire career in futures, most recently for nearly eight years as executive director and head of exchange-traded commodities for Europe, the Middle East and Africa (EMEA) at UBS Ltd. Before that, he was head of energy futures at ABN Amro for two years.
Goodhew began his career in 1987 as a clerk and then broker and trader on the floor of the London International Financial Futures Exchange (LIFFE), working for Union Discount Company of London PLC, where he was soon named the firm's youngest-ever assistant manager. He subsequently spent nine years as an independent futures broker and trader at both LIFFE and the International Petroleum Exchange (IPE), specializing in all of the financial, equity and energy products trading on those exchanges.
PTT Research has hired analysts Matt Margolis and Jonathan Fishman to provide proprietary research. Margolis covers small and mid-cap technology companies, while Fishman concentrates on the solar, technology and semiconductor sectors. . Matt brings more than 13 years of experience across accounting, audit and corporate financial analysis in the private and public sector. He has worked at Ernst & Young, where he performed operational audits focused on internal controls, pension, manufacturing processes and supply chain logistics.
Fishman, a two-year financial pro, was previously the lead analyst for a boutique investment fund G.A. Capital. Prior to that, he was a contributor to Seeking Alpha, an equity market newsletter. Before that he was the head analyst at Gil Adron.
Financial technology vendor Curex hired William Cruger to its Board of Directors. Cruger, with over 30 years in finance, most recently served as a vice chairman of JP Morgan and Co.'s global Investment Banking Group. From 1996 through 2011, he served as a managing director in JP Morgan's Financial Institutions Group and previously ran JP Morgan's investment banking practices in Japan, Latin America and Emerging Asia. He currently serves on the Board of Directors of Virtu Financial and MarketAxess Holdings and has previously served on the Board of Directors of Archipelago, Credittrade and Capital IQ.