Ciaran O'Kelly, who Nomura Securities International hired back in 2009, has resigned, a company spokesman has confirmed. He remains with the firm in an advisory role until the end of the year.
Replacing O'Kelly are Samir Patel and Michael Rietbrock, as co-heads of Americas equities, effective today.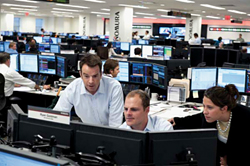 O'Kelly was charged with building out Nomura Securities International's U.S. equities business as the firm sought to be a major sector player. (See Traders Magazine Jan. 2011)
Rietbrock, prior to Nomura Securites International, was director of U.S. equity research at Bank of America Merrill Lynch. There he led a major expansion of the department, and where he also managed the integration with Merrill Lynch's research group. Previously, he managed a portfolio of global real estate and travel-related securities at Caxton Associates. Before joining Caxton, he covered the lodging/gaming sector at Citigroup/Salomon Smith Barney for 12 years.
Samir was co-head of derivative sales at Bank of America, before joining Nomura Securities International. Prior to that he was previously a structured derivatives salesman at Lehman Brothers.
O"Kelly's departure comes amid the recent cost cutting effort by the Japanese bank, which led to a shift in its Execution Services Group to its Instinet subsidiary. Those changes included cash trading, program trading and electronic products, for the Americas, Europe, Middle East, Africa and Asia ex-Japan.
Nomura's move comes as part of a larger consolidation of the Japan-based bank's operations, which was announced in late June. Chief executive officer Koji Nagai announced the bank was scaling back its foreign operations, seeking $1 billion in global cost reductions. The cost cutting initiative is expected to be completed by 2014.
O'Kelly joined Nomura Securities International from Bank of America, where he was head of global equities for seven years. Prior to that, O'Kelly worked at Smith Barney/Citigroup for 11 years, finally as head of equity trading.