Agency-only broker and technology firm ITG hired Tim Reilly as its new head of electronic sales.
He joined the firm as a managing director, is based in New York and reports to chief executive officer Bob Gasser.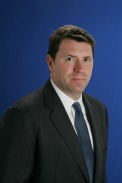 "Tim has an impressive track record of delivering electronic execution services to institutional investors and I am looking forward to his contributions to ITG," said Bob Gasser, ITG chief executive officer and president. "His sales leadership will help us deepen our relationships and reinforce ITG's position as the world's leading independent electronic brokerage."
Currently on gardening leave, Reilly will take the reins in late August, and he will be responsible for U.S. sales efforts across the Electronic Brokerage, Platforms and Analytics product groups.
Reilly comes from Citigroup Global Markets in New York, where he served as head of Electronic Execution Sales and previously led the U.S. Alternative Execution Group and the U.S. Portfolio Sales Trading Desk. He started his career at Salomon Brothers in 1993.